Oshonaike, Quadri Qualify For Rio 2016 Olympics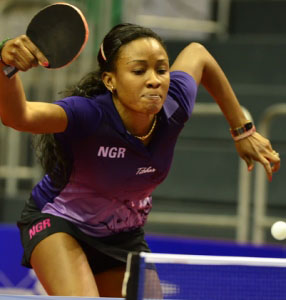 Nigeria's Aruna Quadri and Olufunke Oshonaike have qualified for the Rio 2016 Olympic Games after making it to the semifinal stage of the singles event of the 2015 African Games in Congo Brazzaville.
For Oshonaike, it's a dream come true as she has equaled Segun Toriola's record of six appearance at the games after making her debut at the 1996 Atlanta Olympic Games in United States.
To book her place, Oshonaike defeated Egypt's Yousra Helmy 4-2 to set up a semifinal clash against another Egyptian Nadeen El-Dawlatly on Saturday September 19.
With this qualification, Quadri who defeated Egypt's Ahmed Saleh 4-1 in the quarterfinal will be making his second appearance at the games after his excellent debut in 2012 when he made it to the second round.
For the semi-final tie, Quadri will battle against Egypt's Khalid Assar who edged out Nigeria's Ojo Onaolapo in the quarter-finals.
Other players who have sealed qualification are Egypt's Assar brothers, Omar and Khalid as well as Chinese-born Wang Jianan who defeated Segun Toriola 4-1 in the quarter-finals.
The other three players that secured Olympics slots alongside Oshonaike are Egypt's Dina Meshref and Nadeen El-Dawlatly as well as Chinese-born Congo Brazzaville's Han Xing.