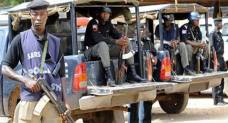 The Niger State Police Command on Tuesday said about 7,000 police officers would be deployed for the local government council polls to be conducted on Saturday, January 16, 2016.
The Police Public Relations Officer (PPRO), ASP Bala Elkana, while speaking to journalists in Minna, said policemen are currently undergoing training on how to conduct themselves before, during and after the elections.
He said that two policemen will be drafted to each polling units across the state while armed policemen would be policing the streets and targeted hot spots.
Elkana, who stated that operation orders have been drafted, warned against anyone with the intention to perpetrate violence to shelve the idea as the police is ready to arrest any individual inciting violence.
"Whoever does not call his supporters to orders should be ready to face the law. We are ready to curb any eventuality.
We did it during the last general elections and we are ready and prepared to do it again."
While speaking on the clash between some political parties in Suleja local government area of Niger State, Elkana said the command will not tolerate or encourage impunity, noting that whoever is found culpable will be prosecuted.
"Although no arrest have been made but whoever is found culpable will be made to face the law no matter how highly placed the person is. The Member in the House of Representatives fingered to be involved in the crisis will be brought in to explain his role in the incident."
The PPRO then said that the DPO and other policemen injured during the clash are responding to treatment and would soon be discharged from the hospital.