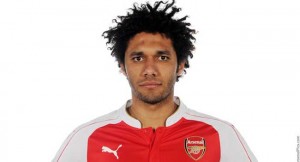 Arsenal have completed the signing of Egyptian midfielder, Mohamed Elneny, from FC Basel.
The central midfielder became the first Egyptian to join the club when his transfer was completed on Thursday morning.
Elneny is delighted to be an Arsenal player and the 23-year-old has promised the fans that he will make a positive contribution in North London.
"I am very keen to participate positively with my new team, God willing, indescribable feeling, I am really glad of course," he told Arsenal Player.
"Arsenal is one of those teams that everyone enjoys watching and of course I would love to play for such a great team.
"Mr Wenger is a highly respected manager and one of the world's best managers. It is my honour to be trained under his management.
"It is one of the biggest clubs in the world, I know everything about it and its players.
"I would like to tell [the fans] that, although you have not seen much of me, I promise I will contribute positively with the team. I am hoping that we win the Premier League and cup this season, and the Champions League as well."
The Arsenal manager also believes that "intermediate stay in Europe" will help Elneny to acclimatise to life in London.
"Overall I believe he will be a good addition to the squad," Wenger told Arsenal Player.
"First he has not come in straight to a big club, he had an intermediate stay in Europe so the adaptation is less of a question mark.
"He is 23 years old and has already got Champions League, Europa League and Swiss League experience. He is a player who is adaptable in midfield.
"He can be box to box and be a holding midfielder so that is for us very promising. We wanted a versatile player and I wanted a player who can play defensive but can as well play to box to box.
"His strengths are his technical level, his vision, his intelligence, his disciplined attitude and his physical attitude to compete at a high level. I think he has the physical qualities to play at the top level.
"Where he needs to adapt is to the challenges, the force needed in the Premier League to survive. I think that could demand a little bit of adaptation. But overall I think he has all the attributes to do well."