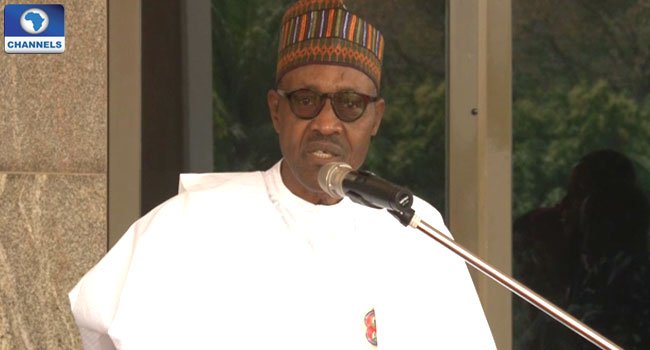 Nigeria's President, Muhammadu Buhari, says Nigeria has made very significant progress towards ending Boko Haram insurgency in the northeast since his assumption of office on May 29, 2015.
The President made the statement in Abu Dhabi, the capital of the United Arab Emirates (UAE), during a meeting with the Secretary-General of the United Nations (UN), Mr Ban Ki-moon, on the sidelines of the World Future Energy Summit.
Buhari said that in collaboration with the Multinational Joint Task Force, the Nigerian Armed Forces have driven the terrorist group from Nigerian territory into "fall-back positions".
"They are currently not holding any territory today as we speak, " President Buhari told the UN Secretary-General.
According to a statement from the Media Adviser to the President, Femi Adesina, President Buhari also told Ban Ki-moon that Nigeria would persistently pursue global action to reverse the drying up of Lake Chad and save the lives of those who depend on it for survival.
"With all due respect to our neighbours, Nigeria has been worst hit by the drying up of the Lake Chad and we are hoping that the global community will support the process of halting the drying up of the lake."
In response, Mr Ban Ki-moon commended the President for his courage in fighting terrorism and corruption.
The Secretary-General said that Nigeria had made amazing progress against terrorism since President Buhari assumed office, while the President's war against corruption had also boosted global confidence in the Nigerian economy.
He urged President Buhari to integrate the United Nations Sustainable Development Goals into Nigeria's economic and environmental vision.