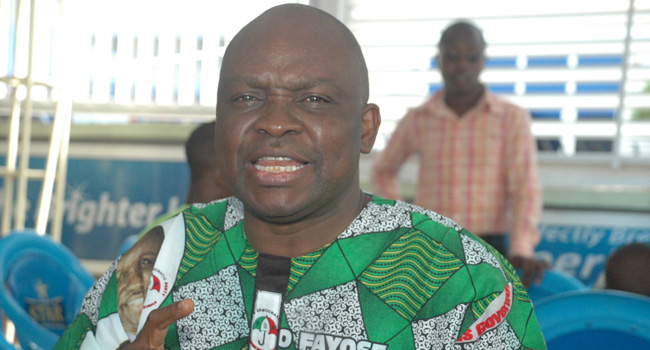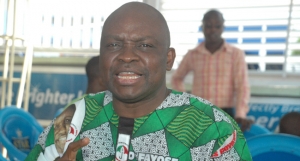 Ekiti State Governor, Mr Ayodele Fayose, has called on stakeholders to support the new National Chairman of the Peoples Democratic Party (PDP), Senator Ali Modu Sheriff.
Fayose believes his emergence at this time and in the present circumstance is the best thing and "those aggrieved should sheath their sword and deploy their time and resources into fighting the All Progressives Congress (APC) instead of their own party."
According to his Special Assistant on Public Communications and New Media, Lere Olayinka, Governor Fayose said; "It is regrettable that those who abandoned the PDP to its fate when it lost power and did not say a word to defend the party have now found their voice against a decision taken in accordance with the party's constitution."
The Governor who reiterated his commitment to the party, said; "With my antecedent as someone who have always defended the party, I can't be linked with any decision that will not be in the best interest of the party.
"I therefore call on all my admirers and believers in my dogged fight for the revival of our party to support our new chairman, whom I believe has the required capacity to reposition the party."
He described those linking the new chairman to the Boko Haram insurgents as mischief makers, asking; "Has Ali Modu Sheriff been tried and convicted by any court for sponsoring Boko Haram? Is he even being tried for involvement in Boko Haram activities?"
While describing the emergence of Ali Modu Sheriff as constitutional, Governor Fayose said all stakeholders like the National Working Committee members, Governors, Senators, House of Representatives members, BOT members and others took part in the processes that produced the new chairman.
He said that the party could only be repositioned when decisions of the party leaders are respected, calling on those aggrieved with the emergence of the chairman to be mindful of the supremacy of the party over and above other interests.
The Governor reminded members and supporters of the PDP that "the party was in a peculiar situation" and needs people who can stand up against the devourers of its collective heritage.
"I can say it confidently that Senator Ali Modu Sheriff is such a person and in the collective interest of our party, we should all rally round him," he said.