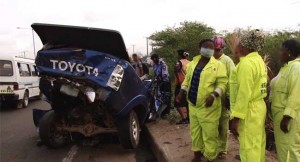 One person died this morning following a fatal accident involving a Sports Utility Van and another vehicle on the Otedola Bridge towards Berger, Lagos State.
The accident which occurred in the early hours of Saturday resulted in heavy vehicular traffic worsened by the fuel queues.

It was not clear how many passengers were involved in the crash but traffic authorities have cleared the wreckage.
Sector Commander Zone 2, FRSC Lagos State, Nseobong Akpabio, explained how the accident occurred.
"A truck carrying container, descending from the bridge from the Mobil (filling station) towards Otedola Bridge had a brake failure and crashed into vehicles, one of which was the pickup that was closely in front of the truck.
"From the reports from the hospital – the Lagos State Emergency Centre in Ojota, one person was confirmed dead and there were injuries."
He added that the FRSC officials have commenced further investigation into the causes of the accident as they would not base their conclusion only on the driver's claim that it was a brake failure.
He noted, however, that the Otedola Bridge area has been identified to be accident-prone and warned motorist using the road to always allow ample distance between them and other vehicles.