French Female Ministers Rise Against Sexual Harassment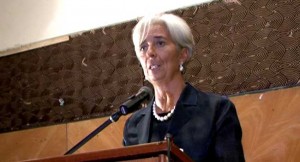 Seventeen women who have served as ministers in France have signed a declaration against sexual harassment in politics, saying they will no longer be silent about the issue.
Among the 17 signatories to the declaration, who are current or former ministers, is the head of the International Monetary Fund and France's former Finance Minister, Christine Lagarde.
The declarations read, "Like all women who have entered spheres that up until then were exclusively male, we have had to fight against sexism.
"It is not for women to have to adapt to these places, but for the behaviour of certain men to change."
The women further said in the declaration, "We encourage all victims of sexual harassment and sexual assault to talk and complain. We ask our parties and our political groups to verify if such acts were committed and if that was the case, to help the victims to get to the truth."
Last week, the Deputy Speaker of the National Assembly, Denis Baupin, resigned over sexual harassment claims, which he denies.
Examples of some of the sexual harassment suffered by the women are also given in the article.
It explains that Fleur Pellerin, who was Culture Minister in Francois Hollande's government from 2014 until this February 2016, rarely suffered harassment until she was appointed to office.
After her first appointment in government, she was asked by a male journalist if she was given the job because she is a beautiful woman.