Enugu State Governor, Ifeanyi Ugwuanyi, has ordered the immediate fortification of the five cells at the Minimum Prison, Nsukka.
The directive follows the jail break incident in the prison in which 15 inmates in the Awaiting Trial Men Cell escaped as six of them have been recaptured.
Governor Ugwuanyi was on inspection tour of the prison to ascertain what caused the incident.
He was received by the Deputy Comptroller of Prisons in-charge of Enugu State, Mr Lawrence Felix.
Addressing the prison officials, he ordered the immediate release of 1.5 million Naira for the outright fortification of the five cells in the prison to avert such  incident from reoccurring.
The Governor also directed the Police Area Commander, Mr Monday Kuryas, to step up security around the area.
He urged the prisoners to be obedient and law abiding while he asked the people of Enugu State to remain calm, saying that their safety was his priority.
The prison official on his part bemoaned the structural problem of the prison, saying that the cells were mere relics of the colonial masters without proper burglary proofs and iron security doors.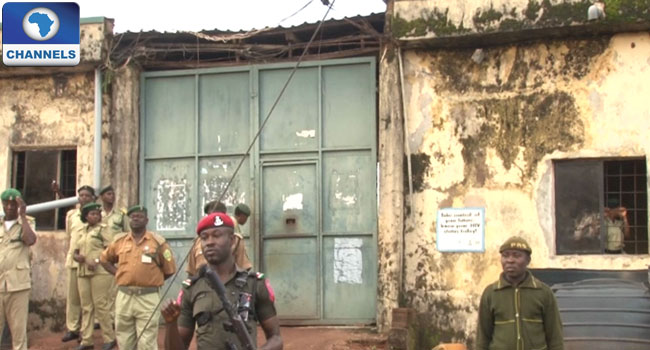 He said that investigations were ongoing, stressing that suspicions were high that the jailbreak might have been successfully carried out by the inmates in collaboration with a former inmate who was conversant with the terrain and have aided the escapees.
The Minimum Prison, Nsukka was built in 1934 with initial capacity of 186 inmates but presently has 254 prisoners with 95% on awaiting trial.
The Enugu State Comptroller of Prisons, Mr Isaiah Amariri, had confirmed that six inmates were re-arrest, but declined to give the exact number of inmates that escaped from the prison.
The Enugu incidence is coming about two weeks after 13 inmates escaped from the Koton Karfe Medium Security Prison in Kogi State.