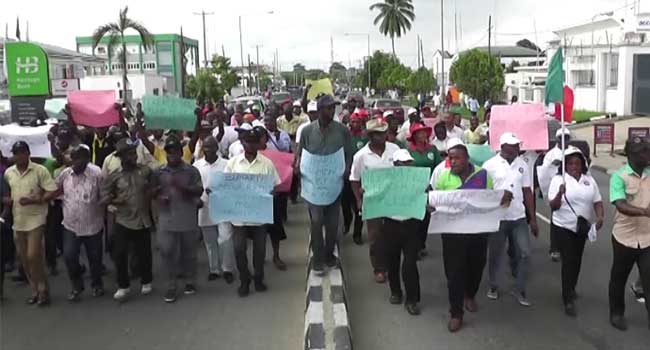 Secondary school teachers in Bayelsa State have held a protest to declare their displeasure over unpaid seven-month salaries by the state government.
The teachers took to the major roads to press home their demands before marching to the state secretariat in Yenagoa, the Bayelsa State capital in south-south Nigeria.
They claimed that while other workers in the state have received half month payment three times, they have not received anything.
The teachers also rejected government's proposition to give them half pay for the month of August on Thursday, insisting that the government must pay them as the other workers.
The Chairman of the Academic Staff Union of Secondary Schools (ASUSS) in Bayelsa State, Mr Oyiemi Ebiredeni, said that members of the union had been battling to survive, as a result of unpaid salaries.
The Commissioner of Education, Mr Markson Fefegha, told Channels Television that the executives of ASUSS and the state government had different understanding with regard to the agreement reached during their private meeting.