NEWMAP Urges Communities To Avoid Environmental Degradation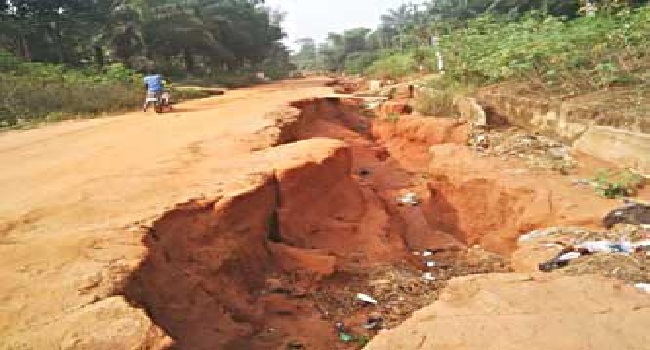 To achieve greater environmental and economic security, Nigeria Erosion and Watershed Management Project, (NEWMAP), has initiated a strategy, urging people to desist from activities that leads to environmental degradation.
The initiative is seen as a paradigm shift aimed at infrastructural intervention and social livelihood of affected communities.
The strategy seeks to discourage people from activities like land excavation, indiscriminate dumping of waste which subsequently lead to erosion, by empowering them with alternative means of livelihood and activity that would protect their environment.
NEWMAP prides itself as a multi-sectoral operation that targets seven southern states with acute gully erosion including Abia, Anambra, Cross River, Ebonyi, Edo, Enugu, Imo while laying a foundation for scaling up to other states nationwide.
These were among the issues discussed at a brief gathering by the NEWMAP, at Enugu, consisting of the World bank representatives, Federal and State ministry of Environment, to highlight project development objectives that would reduce vulnerability to soil erosion.
Thereafter, there was a visit to the Ugwu-uto community in Enugu, where over 150 indigenes were empowered with alternative means of livelihood.
This strategic paradigm shift, is expected to be a vital tool for tackle environmental degradation.
According to them, "it would stop people from engaging in activities that cause erosion, thereby also contributing to the government's efforts to protect the environment".
At the Ajalli water works, in Udi local government area of Enugu State, the erosion depth, spanned up to 30 meters and the twin tank reservoirs that supply water to the entire city, are being threatened by erosion while farmlands within the vicinity have been abandoned.
The Nigeria Erosion and Watershed Management project have therefore begun intervention to save the city from impending danger and also resettled the farmers.