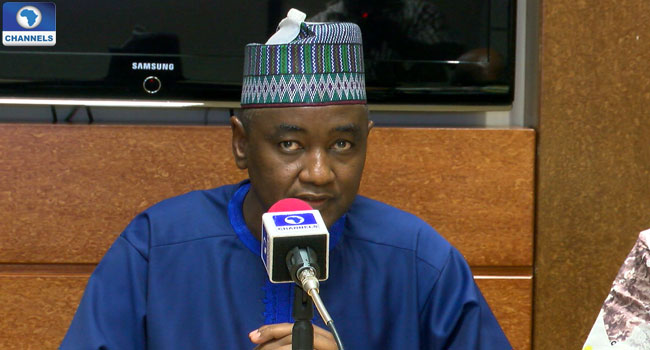 The Nigerian Bar Association (NBA) has declared a state of emergency in the judiciary over the midnight arrest of some judges by the Department of State Services (DSS).
The association is also asking the DSS to immediately release the judges without conditions.
It says the arrests are disturbing and unconstitutional, describing it a situation that had never been witnessed.
The DSS had earlier said that the judges were arrested for alleged corruption cases, with a summary of monies recovered from the judges.
The President of the NBA, Mr Abubakar Mahmoud, at a briefing in Lagos, warned the Federal Government of "grave consequences" should the demands not be met.
Mr Mahmoud said two Supreme Court justices, Inyang Okoro and Sylvester Ngwuta, were "abducted" with their families.
Not Under Military Rule
He said: "I want to, on behalf of the Bar Association, make the very following clear and unequivocal demands.
"We demand the immediate, unconditional release of all the judges abducted from about 9:00pm yesterday (Friday).
"The release must be done immediately and without any conditions.
"We demand that the Department of State Services (DSS) should limit itself to its statutory and constitutional responsibilities.
"It is not the responsibility of the DSS to perform duties meant for police officers and other agencies of the state.
"I want to emphasise again that we are not under military rule and we cannot accept this 'unholy events' and this 'gestapo style of operations'.
"We therefore call on President Muhammadu Buhari to immediately call all the state security agencies to order and to respect the rule of law and due process.
"Any issue affecting the judicial officers, there are established processes and to edited for handling them and we demand that these constitutional processes must be obeyed".
"Given the unfolding nature of the events and the seriousness of the situation, the NBA hereby declares a state of emergency as it affects the affairs of the judiciary".
Attempt To Intimidate
Mr Mahmoud further stressed that the NBA considered the arrests as unconstitutional, as it was a very blatant attempt to intimidate the judiciary, undermined the independence of the judiciary and the legal profession.
"It is unacceptable to the legal profession and I will meet with the Chief Justice of the Nigeria tonight or tomorrow," he stated.
The association also set up a Crisis Management Team comprising the association's past presidents and general secretaries to investigate the situation.
At the briefing were former NBA presidents Mr Wole Olanipekun, Olisa Agbakoba, Joseph Daudu, Augustine Alegeh, bar leaders, Yusuf Ali, Kemi Pinheiro, Koyinsola Ajayi, former NBA General Secretary, Dele Adesina and current NBA second Vice President, Onyekachi Ubani among others.