Governor El-Rufai Tasks Traditional Rulers On Peace, Security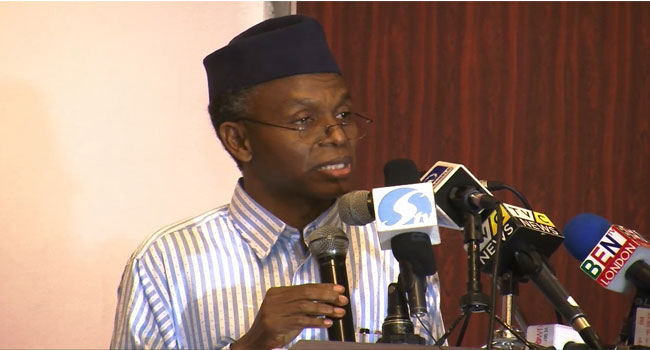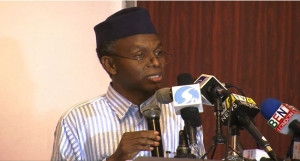 Governor Nasir El-Rufai of Kaduna state has told traditional rulers in the state to ensure sustenance of peace and security in their respective domains.
The Governor made the call during the installation of the traditional ruler of Attyap Chiefdom in Zango Kataf Local Government Area of the state.
Speaking shortly after he handed over the staff of office to the new traditional ruler, El-Rufai lamented that there is too much hatred among the various ethnic diversities in the state often orchestrated by merchants of division and conflict.
He reminded the new royal father that he was ascending the throne at a critical period when the southern part of the state is facing a serious security challenge arising from the frequent clashes between herdsmen and farmers.
He urged him to use his new position to bring unity and peace among the various ethnic groups in his domain.
"Yours is a call to serve the people through quality leadership and selfless sacrifice. As a traditional ruler, you are a father to all in your domain. You are the custodian of the values, customs, and traditions of the Atyap people.
"We urge you to use your position as a royal father to unite all the people and promote peace and harmony in your chiefdom.
"Our state needs everyone in formal and informal positions of leadership to speak up for and to uphold a common humanity. Too many merchants of hate and division menace our land.
"They seek to have their bread buttered by the suffering and destruction that violence brings. They promote a persistent victim mentality, pushing a narrative that relegates and diminishes people and inclines them to base conduct.
"They package ordinary people into the mistaken and dangerous belief that the dice is always loaded against them because of religion and region, thereby fuelling a baseless sense of rage and hate.
"When and wherever violence wreaks havoc to live and limb, they see opportunity to feather their nests, rather than embrace their responsibility to work to ensure everyone's right to life, movement and residence is respected.
"These merchants of division do all these for their personal relevance and bank accounts. Most of them live safely away from the theaters of the violence they induce.
"Many have homes in the safest parts of Kaduna, Abuja and cities abroad. Their children and youth are tucked safely away in private schools within Nigeria and abroad, with the proceeds from the relevance that violence and hatred earn for them," he said.
Support Government
The Governor explained that his administration was in desperate need to bring the incessant attacks that have claimed so many lives and properties in Godogodo Chiefdom and other communities in the area to an end, adding that no meaningful development can take place in an atmosphere of violence.
He urged the traditional and religious rulers to give support to the state government in restoring the lost glory of the state, as well as consolidating on the ongoing initiative to bring unity among the people.
"This government has consistently demonstrated its commitment to security and peace building not only in Southern Kaduna, but every part of the state. From supporting the security forces to promoting community engagements, we are exploring various avenues for peace.
"There is no doubt that security efforts and intelligence gathering must improve and we will continue to discharge our responsibility to uphold security and uphold the laws of the State.
"But we must all soberly acknowledge that the ultimate guarantee of peace is the willingness of people to live together in harmony and mutual respect."
Self-help Or Vendetta
He appealed to the people not to resort self-help or vendetta as doing so will hamper harmonious co-existence among them.
"Resort to self-help and the pursuit of vendettas and reprisals can only produce destruction. Whatever the grievances may be, the appropriate conduct is to report to the law enforcement agencies.
"We have been disappointed to hear people who should know better issuing irresponsible calls for self-help. This must stop!
"We intend to vigorously prosecute them to encourage compliance with our appeal.
"I urge the people of Zangon-Kataf Local Government to embrace their duty to uphold peace and harmony, to support the Agwatyap and other Chiefs, to promote conduct and efforts that will empower our people and sustain growth and development.
"As I often say, we mere mortals cannot be wiser than the Almighty who gave us the gift of diversity. Let us get on with the business of being good human beings, doing unto others as we would have done to us, and wishing for others that which we wish ourselves".
Proactive Measures
In his remarks, the new paramount ruler, Dominic Yahaya, promised to use his new position to bring sustainable peace and socio-economic development to the community.
He said: "We will adopt more proactive measures to sustain peace and unity in our communities.
"I will embark on sensitization of my people to be law abiding, live in peace and be security conscious and love one another.
"I will gather all the various entities within my chiefdom to promote peace. We shall pay special attention to the youths, efforts would be made to provide jobs for the youths."
The people of Atyap community were without a paramount ruler for over seven months after the demise of the former occupant of the seat.