Newborn Health: FG Launches Action Plan Against Pneumonia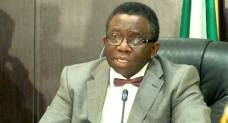 The Nigerian government has launched a new policy guideline for the prevention of stillbirths and pneumonia among newborns by the year 2030.
The Minister of Health, Professor Isaac Adewole, at a conference to launch the guideline in Abuja, stated that annually, pneumonia and premature births accounts for about 15 million deaths of children under five years.
He regretted that Nigeria is the third largest contributor to that global statistics but stated government's readiness to change the narratives by the year 2030.
He said: "Federal Ministry of Health is proud to launch three policy documents relating to new born health. These are 'essential-new born action plan', 'care training package' and the 'national scale up strategy' document.
"The action plan shows government's commitment to end preventable new born deaths and still-births by 2030."
Statistics at the federal ministry of health reveals that an estimated 871,000 premature babies are born annually in Nigeria.
It also shows that preterm births and pneumonia contribute significantly to Nigeria's burden of child mortality rate which is 37 deaths per 1,000 live births in 2013.
The Programme Director for the United States Agency for International Development (USAID), Joseph Monehin called for an urgent action to tackle the problem.
"We know for a fact the impact of malaria as a contributor of infant mortality is reducing but it is not the same for pneumonia. We know that pneumonia continues to be a big contributor to infant mortality in Nigeria and we must redouble our efforts," he said.
Meanwhile the World Health Organization's national coordinator for neonatal program advised government to walk its talk.
"We welcome any innovation that will deal with pneumonia in children as well as complications on prematurity. We are very happy to be here and we support all efforts to end pneumonia and the complications.
"So it is a great day for us. We pray that what we say here, we will be able to implement in the different levels of our health care, not that it would just end here.
The new policy guide recommends among others, exclusive breast feeding, proper hygiene and routine immunization for the reduction of child mortality rate in Nigeria.