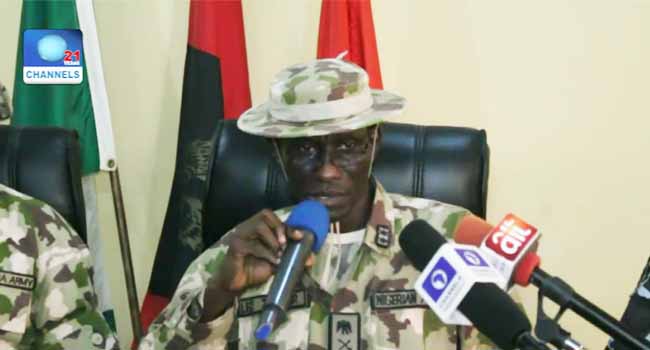 The Nigerian Army has flagged off another clearance operation in the Sambisa forest tagged "Operation Rescue Finale".
The Theatre Commander of the counter insurgency war tagged Operation Lafiya Dole, Major General Lucky Irabor, disclosed this to journalists in a news conference in Maiduguri.
Irabor said the focus of the latest operation on Sambisa is to rescue Chibok girls and other hostages and also rid the forest of remnants of insurgents inhabiting there.
The Theatre Commander said that operations were temporarily suspended in the Sambisa forest due to terrain issues occasioned by the rains.
According to him, the troops have been empowered and have the operational capacity to carry out the task ahead.
"The focus of the operation is to rescue the Chibok girls and every other hostage that is in Sambisa and ensure that every other element of the Boko Haram has been displaced. We'll take them out completely.
"Primarily, commitment of targets by artillery and the air component is already in progress; the subsidiary operations which are ally to the operation is ongoing," he noted.
Irabor has also cautioned against rushing to the social or mainstream media with information acquired about soldiers killed in battle, suing for patriotism and empathy.
He believes the impact of recent suicide bombings in the capital city of Borno state is due to alertness of troops cooperating with other agencies which has led to the arrest of a female suicide bomber by the Police.
The arrested girl, according to the Theatre Commander has been giving the Army useful information.
As part of the success story of ongoing operations, the Theatre Commander added that between the months of October and November, a total of 5,235 hostages have been rescued consisting of 2,054 children and 1560 women.
The Army for the umpteenth time also warned insurgents to take advantage of the "Operation Safe Corridor" and surrender or face execution.