FG Launches Guidelines For HIV/AIDS Prevention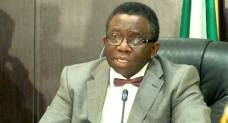 The Nigerian government has launched a national guideline for the treatment, prevention and care for people living with HIV/Aids in Nigeria as part of the activities to mark the 2016 World Aids Day.
The Minister of Health, Professor Isaac Adewole at a conference in Abuja, stated that the new guideline will provide the needed guide for government and development partners towards eliminating new infections.
For four days, representatives of the federal government, development partners in the health sector and networks of people living with HIV and Aids converged to celebrate the 2016 World Aids Day in the FCT.
The Minister of Health who represented President Muhammadu Buhari, gave the assurance that government would give more commitment to funding HIV prevention efforts while appealing for prudent use of resources.
"I am aware of the challenges that have risen in the last few years with regards to the delivery of HIV services in the country. I hereby reaffirm our commitment and ensure accountability and transparency in the HIV sector," he stated.
He, however, advised that funds earmarked for the control and treatment of the virus must be used judiciously.
The Minister then proceeded to launch the national guideline for the treatment and control of HIV and Aids in Nigeria
Prior to this, the Country Director for the United States Centre for Disease Control, Hank Tomilinson, explained how much the American government has invested in treatment and care for HIV in Nigeria with the belief that more could be achieved.
"Nigeria has since 2003 received almost four billion US dollars to address HIV prevention in Nigeria. So far the results are encouraging but we are not satisfied," he said.
Meanwhile, the Secretary of the Network of People Living With Aids in Nigeria (NEPWA), Abdulkadri Ibrahim, decried the lack of access to medications by his members
"We have less than one million that are having ARV treatment.  We have a long way to go. Nigeria accounts for 3.5 million people living with HIV/Aids in this country. We have to fast-track anti-retroviral therapy," he urged.
The Director General of the National Agency for the Control of Aids (NACA), Sani Aliyu, described the current status of the virus and the challenges he faces trying to control its spread.
"Almost one in ten people living with HIV globally are in Nigeria. About 600 people acquire the infection every day in our country.
"Now is the time to tackle the challenge of inadequate domestic funding, shrinking donor support, a weak health care support system and a poorly coordinated national response," he said.
Nigeria recorded 250,000 new infections in 2015, raising the profile of the virus in Nigeria to 3.5 million people.
Only an estimated 800,000 of this population have access to medications.