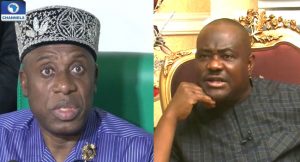 The Governor of Rivers State, Mr Nyesom Wike, says he is not satisfied with the conduct of the legislative rerun election in the state.
He told Channels Television that the collated results were being manipulated in favour of the opposition political party.
Governor Wike claimed that strong effort was made to upturn the results already won by candidates of the Peoples Democratic Party (PDP).
He expressed worry over Rivers East, Rivers West, Andoni and Opobo Nkoru federal constituencies, where he said his party's candidates were set to sweep the polls.
Although the army has since denied involvement in the process, the governor insisted there were video evidences.
Meanwhile, a former governor of Rivers State and Minister of Transport, Chibuike Amaechi, described as baseless, claims that results were manipulated to favour the All Progressives Congress (APC).
Mr Amaechi denied the allegations that the APC was using delayed tactics to tamper with the results in areas where candidates of the PDP were in the clear lead.
A statement from his media office stated that apart from the fact that the minister was not aware of what Governor Wike was talking about, the governor must allow the Independent National Electoral Commission (INEC) to collate and announce results of the rerun elections.
"As governor, Wike cannot be INEC or dictate to INEC how and when to announce election results, it's sad that Wike is desecrating the office of the governor with all his spurious allegations," the statement read.