Iran's Ex-President Rafsanjani Dies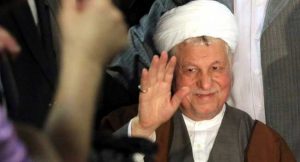 Iran's ex-President Ali Akbar Hashemi Rafsanjani, a dominant figure in the country's politics since the 1980s, has died at the age of 82, media say.
Mr Rafsanjani had suffered a heart attack on Sunday and died in an hospital in Tehran.
He served as president from 1989 to 1997 but lost to Mahmoud Ahmadinejad when he ran again in 2005.
Rafsanjani was an influential figure in Iran, and headed the Expediency Council, a body which is intended to resolve disputes between the parliament and the Guardian Council.
He was also a member of the Assembly of Experts, the clerical body that selects the supreme leader, Iran's most powerful figure.
Rafsanjani has been described as "a pillar of the Islamic revolution." His pragmatic policies – economic liberalization, better relations with the West and empowering Iran's elected bodies – appealed to many Iranians but was despised by hardliners.
The 12-member Guardian Council, a dominant force in Iran that interprets the constitution, disqualified Mr Rafsanjani after he entered the race for the 2013 presidential election as a reformist candidate.