Aisha Buhari Presents Building Materials, Food Items To Yobe IDPs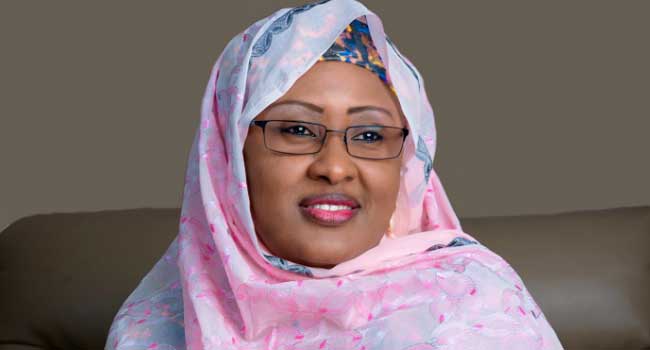 In continuous efforts to rebuild the northeast region, Nigeria's First Lady, Mrs Aisha Buhari, has presented some building materials and food items to the Internally Displaced Persons (IDPs), in Yobe state.
The items are also to be shared to other vulnerable groups in the insecurity prone north east state, to help cushion the hardships being faced.
Materials presented include: wood, facing boards, batting, as well as tying iron, ceilings, roofing sheets, nails, as well as several food items.
Presenting the materials to the Yobe state Government, the first lady represented by the Borno state Commissioner of Women Affairs Mrs Yabawa Kolo, said the Mrs Buhari, is always "saddened by the touching situation of vulnerable groups in the society, hence the need for the assistance".
"The First Lady wants to use her good office to reach out to these IDPs and the vulnerable who must be the poorest among the poor and the vulnerable among the most vulnerable, with the hope that it will help them at this most trying period of their lives".
She explained that the returning IDPs could use the building materials to erect destroyed structures, while the food items would help to fight hunger which according to her, is evident among them.
The Yobe State Deputy Governor, Abubakar Aliyu, on the other hand, expressed appreciation while receiving the materials.
Describing the act as a "kind gesture", he said it was very timely: as it would help the returning IDPs in the rebuilding of their ancestral homes which were destroyed by the insurgents.
"I want to place it on records that this is not the first time we are receiving relief materials from the First Lady.
"I wish to state categorically that we will transport these materials to the beneficiaries where ever they may be."
Yobe state according to the Deputy Governor, has never been found wanting in the distribution of relief materials sent to the state.
Mr Aliyu, who is also the Chairman of the Resettlement of IDPs in the state, therefore assured the first lady that the materials received would serve the purpose for which it was intended.
The materials are currently under the custody of the Yobe State Emergency Management Agency (SEMA), in preparation for distribution.