Rann Bombing: NAF Sets Up Board to Investigate Accidental Air Strike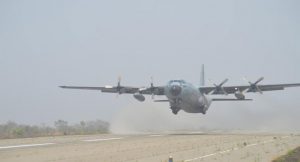 The Nigerian Air Force (NAF) has constituted a board of senior officers to investigate the accidental air strike on January 17, 2017 at Rann village, Borno State.
Among its terms of reference, the Board is to determine the immediate and remote cause as well as the circumstances that led to the incident.
A statement by the Director of Public Relations and Information, Group Captain Ayodele Famuyiwa, reads: "This is with a view to forestall future occurrence. In addition to a list of 20 witnesses given to it, the Board is free to invite other persons to give evidence on oath.
"The Board is to submit its report not later than February, 2, 2017.
"The 6-man Board is headed by the Chief of Standards and Evaluation, Headquarters Nigerian Air Force (HQ NAF), Air Vice Marshal Salihu Balaribah.
"Other members are Air Vice Marshal Charles Oghomwen, Air Commodore Ayoola Jolasinmi, Group Captain Essien Efanga, Wing Commander Solomon Irmiya and Wing Commander Mohammed Muazu.
At least 50 persons were killed when a military jet dropped a bomb on the settlement. The military said it had received reports that fleeing Boko Haram members were settling in the area.
Earlier, President Muhammadu Buhari warned the military to ensure that such an incident would not occur again.
 The Chief of Staff to the President, Abba Kyari, conveyed the President's message when he led a Federal Government delegation on a condolence visit to the Borno state government.
The House of Representatives in Nigeria had earlier demanded a thorough investigation into the incident.