APGA Asks FG To Release Nnamdi Kanu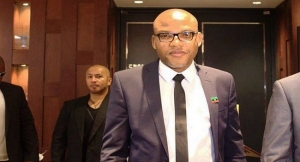 The All Progressives Grand Alliance (APGA) has asked the Federal Government to release the detained leader of the Independent People of Biafra, Mr Nnamdi Kanu.
The National Chairman of APGA, Mr Victor Oye, made the call on Thursday at a media briefing in Abuja, Nigeria's capital.
Mr Oye based his stance on the court rulings which granted Mr Kanu bail on three occasions.
He maintained that the Federal Government should obey the rule of law in the prosecution of the case.