Saraki Says Govt. Must Sacrifice To Fix Power Sector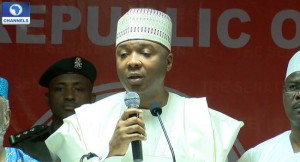 The Senate President, Senator Bukola Saraki has criticized the privatisation of the power sector saying there was shoddy licensing of contracts to incompetent hands.
Speaking at a stakeholder's dialogue in Abuja, he lamented how Nigeria has suffered from disruptions to its electricity supply for decades as successive governments struggled to improve the situation.
This dialogue at the instance of the National Assembly once again opened up the embedded issues.
The Senate President said that government has no road-map for the nation's gas infrastructure and must now make sacrifices to transparently fulfil its part of the deal to boost the power sector.
He pledged the full support of the National Assembly to ease the sector's challenges.
The Speaker of the House of Representatives, Yakubu Dogara, had more questions begging for answers. He noted that it appeared the more resources committed to the sector, the more darkness.
Meanwhile, not oblivious of the challenges, the Minister of Power, Babatunde Fashola maintained that electricity is not cheap.
He urged speedy legislative interventions to enable the sector achieve the much desired growth.