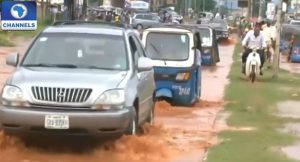 The Niger state Government has directed the Niger State Emergency Management Agency (NSEMA) to distributed relief materials and cash about 40 million Naira, to the affected flood victims in Lapai Local Government Area of the state.
The Director General of the agency Ibrahim Inga stated that this was a relief from the state government to provide succor to the affected individuals and communities.
Inga who assured of the government's sympathy to its citizens despite the current recession was optimistic in putting up measures to avoid disaster, rather than engaging in consistent relief material distributions.
He urged them to make judicious use of the funds and materials given to them so as to reduce the plights they suffered from the disaster.
He added that 256 people from 19 communities were affected from the 2016 flood in the area with two deaths recorded.
The DG disclosed that the stated recorded flood in 16 Local Governments of the state in 2016, he appealed to all the Dams to as a matter of necessity to be put in place, before they release excess water to avoid disaster.
The council chairman of Lapai, Hon. Usman Mohammed in an interview appreciated the kind gesture of the state governor Abubakar Sani Bello towards the victims and charged them to make use of the materials for what it was meant for.
The items distributed includes: 250 bundles of zinc, 280 nails, salt 100 bags, maize 180 bags, rice 180 bags, red 140 and groundnut oil 140 of 20 litres cement 1500 bags, rapper 500 pieces and super print 500 pieces with a cash of 7.7million Naira, while logistics cost 2million Naira.
A beneficiary from Cheku, Mahmud Abubakar  stated that they started experiencing this kind of flood in 1986 when the road was constructed, therefore appealed to Governor Abubakar Bello to construct a bridge for them rather than the culvert which when flooded affects the community annually.
Another victim who lost his child during the flood Gimba Idris from Kuchi in tears stated that "I am happy and grateful to the Niger state governor Abubakar Bello and may God reward him for the gesture".