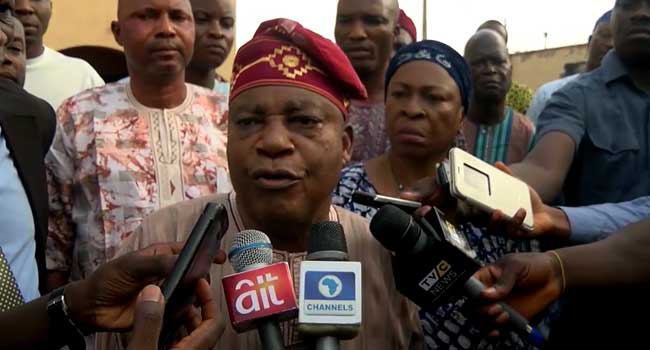 The Court of Appeal sitting in Akure, the Ondo State capital has nullified the impeachment of a former Deputy Governor of Ondo State, Ali Olanusi.
The court held that Honourable Olanusi's impeachment in 2015 by the Ondo State House of Assembly was not done in accordance with the provisions of the law.
In his ruling, Justice Muhammed Danjuma, said Olanusi was wrongfully impeached, and that he was not accorded fair hearing before he was impeached by the State Assembly.
Justice Danjuma ordered the restoration of all the rights and benefits due to the former Deputy Governor from the time of his impeachment from office to the period his tenure ended.
Speaking to reporters on the ruling, Olanusi's Counsel, Richard Alade, said the releases sought by his client from the lower court have been granted by the Appellate Court.
He commended the industry and effort put into the judgement which he said resulted in a sound idea.
Mr Alade described the judgment as a fantastic one and a victory for the Nigerian people and the constitutional system of the country.
"The Appellate Court has given judgment and the judgment is sound enough and it's touching on all aspects of law that bother on constitutionality and means to uphold the tenets of justice and legality. This is what has been in place as the justice system must not be brutalised by the powers that be.
"By the grace of God, all the releases being sought by the appellant from the lower court have been granted. Anybody that has the reason to listen to that judgment will be appreciative of the industry and efforts put into it for it to become a sound idea. I will best refer to it as fantastic and a victory for the Nigerian people and the constitutional system of Nigeria," he said.
The former Deputy Governor, on his part, thanked God and the judiciary, as well as the people of Ondo State who stood by him during the legal battle.
He noted that despite all the charges brought against him, there was no impeachable offence traceable to him.
"We have cause to thank God and we have to thank the judiciary too, judiciary is improving in Nigeria. In a civilised country, such a thing can never happen. They did not see any file where I committed an impeachable offence.
"At last, the truth has prevailed and I'm happy. I have to thank God, the judiciary and the people of Ondo State, they stood by me," Olanusi said.
He defected from the Peoples Democratic Party to the All Progressives Congress shortly before the 2015 general elections.
Consequently, Mr Olanusi was impeached as deputy to former Governor Olusegun Mimiko by the Ondo State House of Assembly on allegations of corruption and abuse of office.