Lawmakers Disagree As Senate Adopts Change In Election Sequence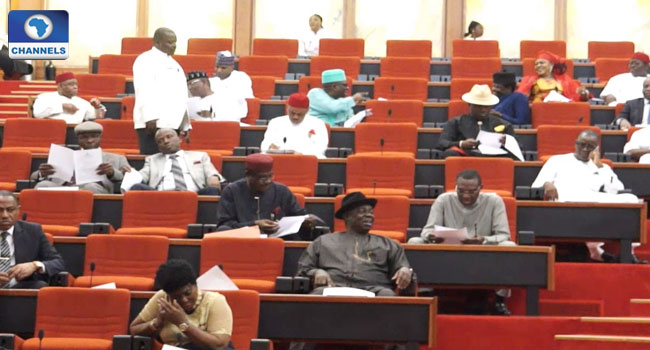 The Senate was divided on Wednesday over the submission of the conference committee report on the Independent National Electoral Commission (INEC) Act 2010 (Amendment) Bill.
The senator representing Bauchi North Suleiman Nazif made the submission at today's plenary in Abuja while Senator Jeremiah Useni (Plateau South) seconded that the upper house receives and consider the report.
The report, which sets the sequence for the general elections, was consequently adopted by the Senate.
However, it was not smooth sailing for the amendment to be passed as three lawmakers rose against the amendment of section 25(c) of the Electoral Act.
One of the senators, Abdullahi Adamu (Nasarawa West) believes the amendment is partisan and pre-determined by members of a political party threatened by President Muhammadu Buhari.
The presidential and National Assembly elections have always been conducted first on the same day, followed by that of the governorship and State Houses of Assembly.
However, the Senate adopted a new sequence such that the National Assembly polls would be conducted first, followed by the state lawmakers, and the governors while the presidential election should take place last.
Similarly, at the lower chamber, the House of Representatives had on January 23 voted for the change of the order of elections in the country.
The lawmakers voted in support of the change during a plenary presided by the Deputy Speaker of the House, Yussuff Lasun, while considering the report on a bill to further amend the Electoral Act 2010.
But in line with its preparation for the general elections in 2019, INEC highlighted the schedule of activities for the polls in a timetable released on January 9.
The presidential and National Assembly elections were fixed for February 16, 2019, with the governorship, state legislative and area council polls in the Federal Capital Territory set for March 2, 2019.
According to the electoral body, presidential and National Assembly primaries will commence on August 18 while campaigns will start on November 18, 2018, and campaigns for the governorship and state assemblies are scheduled to commence on December 1, 2018.