Kaduna Residents Cry Out As Petrol Stations Sell Above N145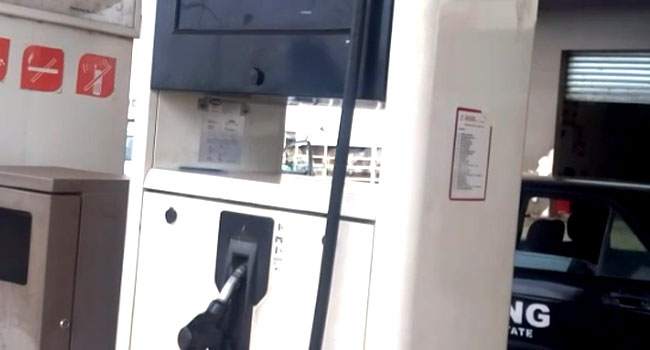 Residents of Kaduna state have cried out to the government over the alleged refusal of some petrol marketers to sell the product at the approved pump price of N145 per litre.
Speaking to Channels Television's correspondent in the state on Saturday, some residents said despite the increase in the daily supply of petrol to Kaduna state and environs by the Nigerian National Petroleum Corporation (NNPC), and the warning by the Department of Petroluem Resources (DPR) to sanction any marketer selling above N145 per litre, the product is still being sold as high as N190 per litre in some stations.
They also expressed frustration that despite not benefiting from lower global oil prices, they were still being short-changed by adjusted pumps by marketers.
Responding to the complaints, the Department of Petroleum Resources said that it was fully aware of the situation and the agency had caught and sanctioned over 10 petrol stations for various offences ranging from hoarding, under dispensing and selling above pump price.
DPR Zonal Controller in Kaduna state, Isa Tafida, who led the operation warned marketers to stick to the official pump price to make life easy for Nigerians or have their licenses withdrawn.
He said it was possible for oil marketers to sell petrol at the approved price and still make a decent profit, instead of indulging in sharp practices.
"You know that Hunkuyi is over one hundred kilometres away from Kaduna, so they are taking advantage of the remote location of this particular area to be selling above pump price.
"They were caught by our surveillance team selling a litre of petrol for N190 and they have about 13,000 litres underground selling to the public.
"So we locked up the station, now we are here to open it so that we can sell the product to the public.
"They are cheating members of the public on the price and also on the quantity. So I am calling on other marketers to know that they can't take advantage of the location to hike the price, we are everywhere. There is no hidden place for any marketer to sell above pump price and we won't catch him. Apart from sealing the station, the company must also pay a penalty of N100,000 per pump," he said.
While relative stability gradually returns and queues at filling stations are reduced, many believe that one major to way to bring a stop to the issues is for the government to revive the country's refineries.