Offa Robbery: Saraki Condemns Act, Says Perpetrators Will Be Arrested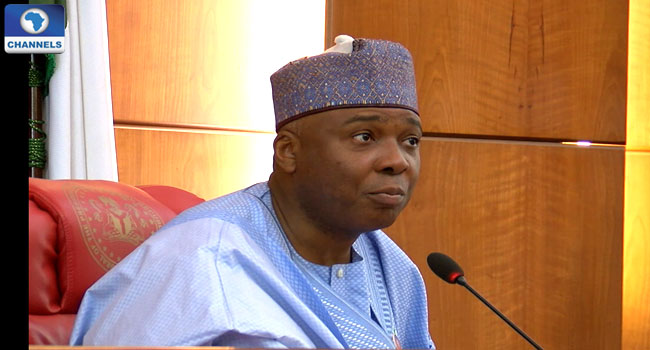 The Senate President, Dr Bukola Saraki, has condemned the robbery incident that led to the death of several persons in Offa.
Senator Saraki said this on Friday in a Facebook post while condemning the incident which took place in Kwara State.
READ ALSO: Several Killed As Robbers Hit Five Banks In Kwara
About 30 gunmen suspected to be armed robbers had invaded five commercial banks on Thursday in Offa, the headquarters of Offa Local Government Area of the state.
The suspected armed robbers were said to have arrived in seven vehicles and stationed themselves in each of the banks before the unfortunate incident occurred.
Reacting to the attack, the Senate President said, "Yesterday's savage attack on unsuspecting citizens and establishments in Offa LGA that led to significant loss of lives and injury is a despicable act committed by cruel individuals.
"Make no mistake, there will never be any valid grounds or rationale behind such violence that has left many families without their loved ones — and one more community in grief and shock."
Dr Saraki said he had put a call through to the state governor, Abdulfatah Ahmed, to condole with him over the lives that were lost in the attack.
He further revealed that he and the governor had both agreed to leave no stone unturned until the perpetrators of the heinous act were caught and brought to justice.
The Senate President, however, called on the public to collaborate with the government to prevent a reoccurrence of the ugly incident.
He also stressed the need for Nigerians to cooperate with the government at all levels to increase the security of various communities across the country.
Saraki prayed that God would grant the souls of those who lost their lives a place among the righteous ones, adding that his prayers and support would continue to be extended to all the affected families.
He vowed that the government would remain relentless until everyone involved in the planning and perpetration of the attack face the full wrath of the law.