Re-election: Buhari Made 'A Desperate Declaration', PDP Says
The Peoples Democratic Party (PDP) has taken a swipe at President Muhammadu Buhari, claiming he made a 'desperate' declaration to seek re-election in 2019.
National Publicity Secretary of the party, Mr Kola Ologbondiyan, criticised the President's declaration during his appearance on Channels Television's Sunrise Daily on Wednesday.
READ ALSO: Buhari Declares Intention To Run For Second Term
President Buhari had declared his intention to seek re-election on Monday at a closed-door meeting of the National Executive Committee (NEC) of the All Progressives Congress (APC) in Abuja.
Explaining the rationale behind his decision, he told party leaders at the meeting that his declaration was in response to the clamour by Nigerians to recontest in 2019.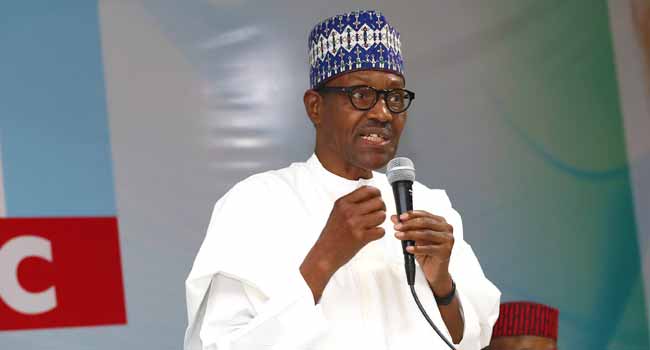 The PDP spokesman, however, alleged that the President was desperate to have made his intention known with just 310 days to the general elections.
He recalled that a mammoth crowd trooped out to receive the opposition party when it held rallies in Dutse, the Jigawa capital and Katsina, the home-state of President Buhari.
Why Buhari Deserves To Be Re-elected In 2019 – APC
"That was the first thing that drew the President to make a sudden declaration, a desperate declaration to run for a second term," Ologbondiyan stated.
"In our political history, particularly in the modern political history since 1999 till date, President Muhammadu Buhari is the first incumbent president that will declare a second-term interest one clear year ahead of the election."
He purported that the President declaring his intention to seek a re-election at this time would have an effect on the nation, stressing that Nigeria does not have a system that can run on its own if its president is campaigning.
The PDP spokesman said, "Once politicking starts, every apparatus of government takes the back seat. So, what President Muhammadu Buhari's declaration for a second term has ensured is that from this moment until elections are held on February 2019, governance will take the back seat."
He, however, noted that whether the President emerges the APC candidate at the primaries or not, the opposition party is not nervous as it is ever ready to reclaim power from the APC.
Ologbondiyan added President Buhari would not have bothered to make a declaration if the APC was listening to the drumbeats on the streets.
"For President Muhammadu Buhari's first three years, there is absolutely nothing to show," he said. "We must not quickly forget the fact that President Muhammadu Buhari contested the 2015 election on one significant platform – change; have we seen any significant change?" the PDP member questioned.