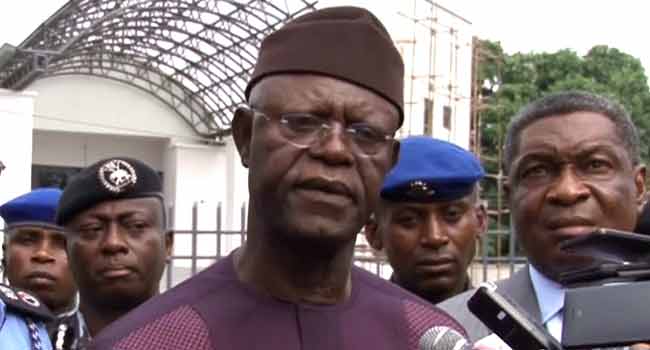 The Benue State government says the state is under a siege, following the latest attack in which several persons were killed.
Suspected armed herdsmen had invaded Ayar-Mbalom community in Gwer East Local Government Area of the state on Tuesday, killing two Catholic priests and at least 13 people.
READ ALSO: Suspected Herdsmen Kill 11 Worshipers, Two Priests In Benue Church
Hours after the incident occurred, the Deputy Governor of the state, Mr Benson Abounu, visited the scene of the attack, alongside the Commissioner of Police in the state, Mr Fatai Owoseni, and other government officials.
"We are under siege and I do believe that this has gone beyond the normal herdsmen-farmers crisis," he said while briefing reporters.
"What we are having at the moment is an attack by insurgents and these insurgents could come from any source, any background. This is a new dimension of attack and it has never happened before."
On the number of casualties recorded, Mr Abounu confirmed that the two priests and 17 other people lost their lives, making a total of 19.
He lamented that the incident has led to another black day in the history of Benue, adding that it calls for serious attention from the relevant stakeholders.
The deputy governor further urged the Federal Government and the security agencies in the country to treat the continued killing of innocent citizens in the state as "a very grave and serious matter", as it gone beyond the crisis between herdsmen and farmers.
Also speaking to reporters about the attack, the police commissioner disclosed that about 30 assailants, whose targets were the priests and the venue of a burial ceremony, invaded the community.
"As of the time I left the place, we were able to see 16 dead bodies, including the priests that were killed," he said.
Owoseni, however, revealed that the police have commenced a wider area surveillance and deployed personnel and were working with the residents of the community to apprehend the assailants.
He noted that the search operation would be intensified and called on residents to provide useful information that can lead to the arrest of the attackers.
Hours after the attack, President Muhammadu Buhari had condemned the killing of the two priests and worshippers as 'vile and satanic'.
"This latest assault on innocent persons is particularly despicable. Violating a place of worship, killing priests and worshippers is not only vile, evil and satanic, it is clearly calculated to stoke up religious conflict and plunge our communities into endless bloodletting," the President said in a statement by his spokesman, Mr Femi Adesina.
President Buhari had also sympathised with the Benue State government, as well as the people of the community where the incident occurred.