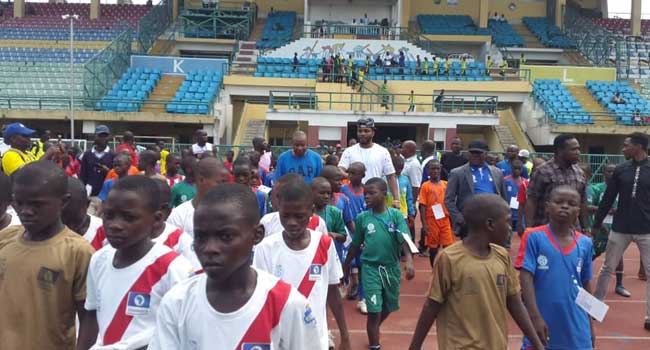 Baptist Primary School from Osun State have qualified for the quarter-finals of the Channels International Kids Cup.
The young lads joined LGEA Central Primary School from Kwara in the next round of the tournament after both sides played out a 2-2 draw in their final Group A game on Wednesday at the Teslim Balogun Stadium in Lagos.
PHOTOS: Yobo Graces Channels Kids Cup With Surprise Visit
In the other Group A match, Sheikh Gumi Model School from Kaduna beat Arinze Primary School of Edo 1-0 for their first win of the competition, but it was not enough to book a last-eight spot as they finished third with four points.
In Group B, Obukohwo Demonstration Primary School managed to beat Ecole Urbiane Centre from Benin Republic 1-0 to advance to the quarter-finals.
Elsewhere, Emmanuel Anglican and Premier Primary schools have also progressed to the next round following their respective 2-1 and 1-1 scorelines in their last Group C games.
X-Planter Primary School of Lagos and New Tunga Primary School from Niger completed the quarter-finals line up after playing a goalless draw and 1-0 respectively in Group D.
Meanwhile, former captain of the Super Eagles Joseph Yobo paid a surprise visit to the boys to encourage those who qualified for the next round and cheer up other teams who crashed out.
Yobo, who assured the young lads of his support, stressed the need for them not to be carried away with their football talents but to take their education seriously.
He noted that he rose to stardom just like some of them, adding that he never took his studies for granted.
The former Eagles captain further thanked Channels Television for organising the competition, saying it would go a long way in developing sports at the grassroots.
See the Channels International Kids Cup table below:
GROUP A               P             W           D             L              GD          Pts
Kwara                   3              2              1              0              +4           7
Osun                     3              1              2              0              +1           5
Kaduna                3              1              1              1              -1            4
Edo                        3              0              0              3              -4            0
GROUP B              P             W           D             L              GD          Pts
Oke-Ifako            2              1              1              0              +1           4
Delta                    2              1              1              0              +1           4
Benin Rep.          2              0              0              2              -2            0
Ogun                    –              –              –              –              –              –
Group C                P             W           D             L              GD          Pts
Ekiti                     3              2              0              1              +2           6
Anambra            3              1              2              0              +1           5
Katsina                3              0              2              1              -1            2
Borno                   3              0              2              1              -2            2
Group D               P             W            D             L              GD          Pts
X-Planter            3              1              2              0              +1           5
Niger                   3              1              1              1              0              4
Ghana                 3              0              3              0              0              3
Oyo                       3              0              2              1              -1            2