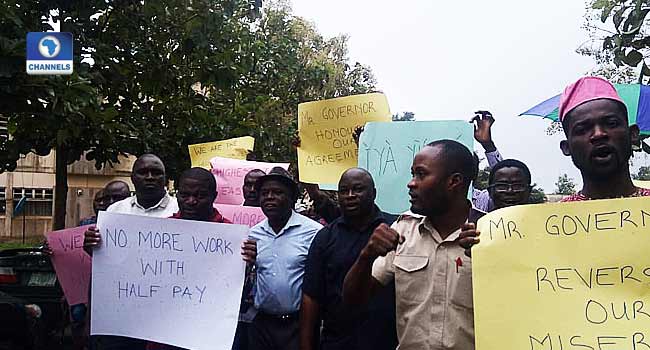 Academic activity was brought to a halt on Thursday at the Osun State College of Education in Ilesa, as lecturers commenced an indefinite strike.
The leadership of the Colleges of Education Academic Staff Union (COEASU), Ilesa branch, gave the directive following the alleged failure of the state government to fulfil all its agreements with the lecturers.
Defying the rain, the lecturers took to the streets carrying placards with various inscriptions around the campus, chanting solidarity songs.
After the peaceful walk, COEASU Chairman in Ilesa, Olusegun Lana, told journalists that the government had failed to stop the payment of modulated salary to workers as promised, a move he claimed had left untold hardship on the workers.
They also demanded the payment of half salary arrears and deductions which they claimed totalled about 36 months, as well as the reinstatement of about 42 staff dismissed in 2016, among other demands.
In response, the state government speaking through the Commissioner for Information and Strategy, Adelani Baderinwa, noted that it is yet stabilise financially hence the delay in putting an end to modulated salary.
He, however, assured the lecturers that the government remains committed to the welfare of all its workers.