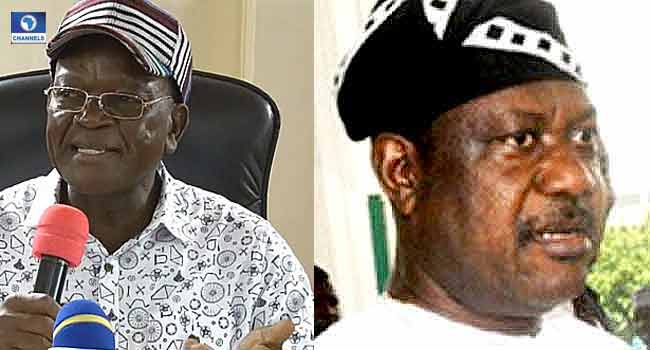 The Benue State Governor, Samuel Ortom and Senator George Akume have disagreed over the attack on the Peoples Democratic Party (PDP) billboard in Benue State.
Governor Ortom had accused Senator Akume of propelling the youths to embark on the destruction of PDP campaign materials after he lost his senatorial seat.
But the Senator has responded to the allegations saying he did not authorise the tearing down of posters and billboards belonging to any politician in the state.
He said was out to celebrate President Muhammadu Buhari's grand victory in a motorcade, during which an overwhelming number of his fans queued behind him in the celebration galore.
READ ALSO: Alleged APC Supporters Damage PDP Campaign Materials In Benue
He strongly condemns the alleged destruction of posters and billboards by zealous unidentified persons describing such actions as primitive, barbaric and unnecessary in modern-day democracy.
Senator Akume called for peace and orderliness amongst party supporters urging his fans in particular not to be deterred by the injustice meted out to the party in the just concluded election.
He assured that the liberation of Benue is an all-important project and all hands must be on deck to achieving it.