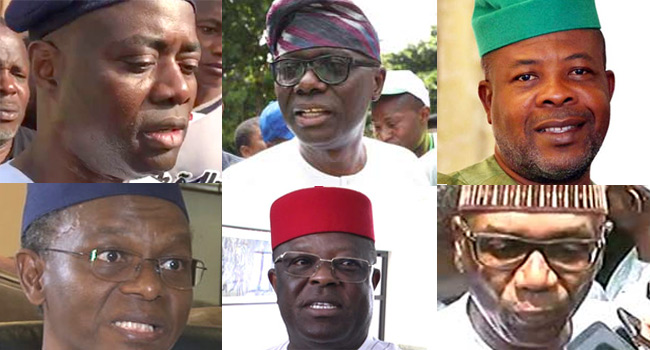 The Governorship and House of Assembly elections may have come and gone, the outcome of the polls is still generating reactions in states where they were held.
Osun, Ekiti, Ondo, Bayelsa, Edo, Kogi, and Anambra States were left out in the governorship poll held on March 9 in 29 states across the country, as theirs come outside the election cycle.
So far, the Independent National Electoral Commission (INEC) has announced the results of the election in 22 states.
LIVE: INEC Announces Winners Of Governorship Election In 22 States
A breakdown of the figure so far released shows that the All Progressives Congress (APC) won 13 states while the Peoples Democratic Party (PDP) won nine.
Plateau, Benue, Adamawa, Kano, Sokoto and Bauchi have to wait for some time to know who their governor for the next four years would be after INEC declared the election in those states inconclusive.
In Rivers State, the electoral body suspended the electoral process over reported violence during the exercise.
INEC said it would announce a new date for re-run in the states where the election was declared inconclusive within 21 days.
A detailed breakdown of winners announced so far is highlighted in the table below:
| | | | |
| --- | --- | --- | --- |
| STATE | APC | PDP | WINNER |
| ABIA | 99,574 | 161,553 | OKEZIE IKPEAZU |
| ADAMAWA | 334,995 | 367,471 | INCONCLUSIVE |
| AKWA IBOM | 171,978 | 519,712 | UDOM EMMANUEL |
| BAUCHI | 465,453 | 469,512 | INCONCLUSIVE |
| BENUE | 329,022 | 410,576 | INCONCLUSIVE |
| BORNO | 1,175,440 | 66,115 | BABAGANA UMARA |
| CROSS RIVER | 131,161 | 381,484 | BEN AYADE |
| DELTA | 215,938 | 925,274 | IFEANYI OKOWA |
| EBONYI | 81,234 | 392,291 | DAVID UMAHI |
| ENUGU | 10,423 | 449,935 | IFEANYI UGWUANYI |
| GOMBE | 364,179 | 222,868 | MOHAMMED YAHAYA |
| IMO | 96,458 | 273,404 | EMEKA IHEDIOHA |
| JIGAWA | 810,933 | 288,356 | BADARU ABUBAKAR |
| KADUNA | 1,045,427 | 814,168 | NASIR EL-RUFAI |
| KANO | 987,819 | 1,014,474 | INCONCLUSIVE |
| KATSINA | 1,178,864 | 488,621 | AMINU MASARI |
| KEBBI | 673,717 | 106,633 | ATIKU BAGUDU |
| KWARA | 331,546 | 114,754 | ABDULRAHMAN ABDULRAZAQ |
| LAGOS | 739,445 | 206,141 | BABAJIDE SANWO-OLU |
| NASARAWA | 327,229 | 184,281 | ABDULLAHI SULE |
| NIGER | 526,412 | 298,065 | ABUBAKAR BELLO |
| OGUN | 241,670 | 70,290 | ADEDAPO ABIODUN |
| OYO | 357,982 | 515,621 | OLUSEYI MAKINDE |
| PLATEAU | 583,255 | 538,326 | INCONCLUSIVE |
| RIVERS | – | – | SUSPENDED |
| SOKOTO | 486,145 | 489,558 | INCONCLUSIVE |
| TARABA | 362,735 | 520,433 | DARIUS ISHAKU |
| YOBE | 444,013 | 95,703 | MAI-MALA BUNI |
| ZAMFARA | 534,541 | 189,452 | MUKHTAR SHEHU |