Three New COVID-19 Cases Confirmed In Lagos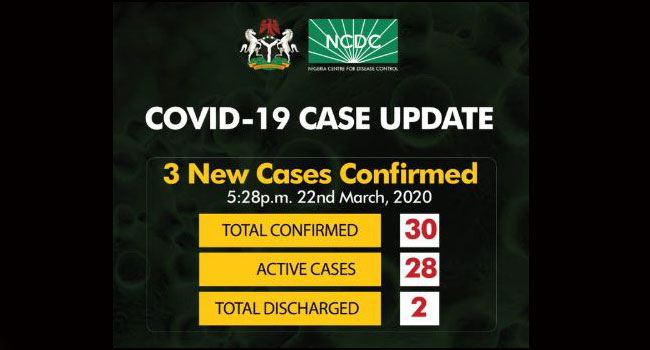 Three new cases of the #COVID19 have been confirmed in Lagos, Nigeria, taking the total number of confirmed cases in the country to 30.
The Nigeria Centre for Disease Control (NCDC), made this known on Sunday, noting that two of the cases are returning travellers while the other one is a contact of a confirmed case.
According to the Lagos State Commissioner for Health, Akin Abayomi, the first of the three cases is a Nigerian male, with a two-week history of dry cough, intermittent high-grade fever and general pains.
He was recently in Dubai for two weeks and has been on admission for three days with Chest X-ray and a CT scan, suggestive of pneumonia.
The second case is a Nigerian male without a travel history. He's an asymptomatic contact (driver) of a known positive case, while the third case is a Nigerian female who returned from the United States on March 8, 2020.
The three new cases bring to eight, the total number of cases the NCDC confirmed today (Sunday) alone.
According to the NCDC, out of the 30, 28 are active while two have already been discharged.
A further breakdown shows that Lagos State now has 22 cases, the Federal Capital Territory, Abuja has four, Ogun State has two, while Ekiti and Oyo states have one case each.
---
RELATED
Lagos Gives Stay-At-Home Order To Civil Servants Over Coronavirus
China Embarks On Clinical Trial For Coronavirus Vaccine
As the government makes frantic efforts to curb the spread of the virus, people have simply been advised to stay at home and limit their contacts with people.
While the Federal Government has shut down the Lagos and Abuja International Airports, several states such as Lagos, Ogun, and Kwara have banned large gatherings of more than 50 people.
The Lagos State government in addition to that, has announced a stay-at-home order for public officers from Grade level 1 to 12 for the next 14 days.
The state governor, Babajide Sanwo-Olu, however, noted that "the stay-at-home order does not affect any of our first responders, meaning the medical personal are still meant to be at their duty posts, the fire service, members of the Lagos State Emergency Management Agency, LAWMA and other essential services are not affected by this directive".