Bandits Attack Zamfara Community, Kill 14 People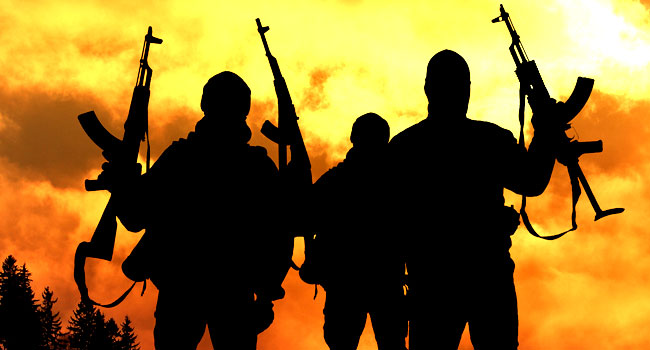 Gunmen suspected to be bandits have attacked the Kurya Madaro community of Kaura-Namoda Local Government Area in Zamfara State.
It was gathered that the bandits stormed the community at midnight on Tuesday and operated till the early hours of Wednesday.
Police authorities are yet to react to the attack. All efforts to reach the Police Public Relations Officer in the state, SP Muhammed Shehu, proved abortive as his telephone numbers were not reachable.
But a source in the community confirmed the attack to Channels Television, saying that the attackers stormed the town around 11:30 pm on Tuesday and operated till the early hour of Wednesday, killing about fourteen people.
According to him, the bandits set police operational vehicles, one trailer, four other vehicles belonging to the community and many shops on fire during the attack.
The deceased have since been buried in Kurya Madaro town in line with Islamic rites.
Kurya Madaro is about 51kilometres to Gusau, the Zamfara State capital.
READ ALSO: Amotekun Operatives Arrest Kidnapper, 17 Other Suspected Criminals In Ondo
It will be recalled that residents of the community had on May 31, staged a protest to demonstrate their displeasure over incessant bandit attacks in the area.
Criminal gangs, known locally as bandits, have terrorised northwest and central Nigeria for years, but they have become more brazen in recent months and the military has renewed operations in a bid to end the attacks.
"On Sunday, unidentified gunmen attacked Madamai village in Kaduna State, leaving 34 residents dead and seven others wounded," state security commissioner Samuel Aruwan said.
Troops came under fire before forcing the assailants to withdraw after an intense exchange, he said in a statement.
Also on Sunday, gunmen attacked a church in the Kachia district of Kaduna State, killing at least one person, he said.
Sunday's violence led to reprisals by unidentified assailants on communities in Kacecere in Kaduna, which left another eight dead, six injured and several houses razed, Aruwan said in a second statement without giving details on when the violence took place.
The bandits who raid villages, steal cattle, kidnap for ransom and burn homes, have no known ideology.
But analysts see signs of growing cooperation between the gangs and Boko Haram fighting a 12-year Islamist insurgency in the northeast.
The military began an anti-bandit campaign earlier this month in Zamfara State. Some northern states have also imposed restrictions on movement and trade and a telecoms blackout as part of efforts to have the gunmen under control.