Tordue Salem: We Have Traced His Last Contact, Conversation – Police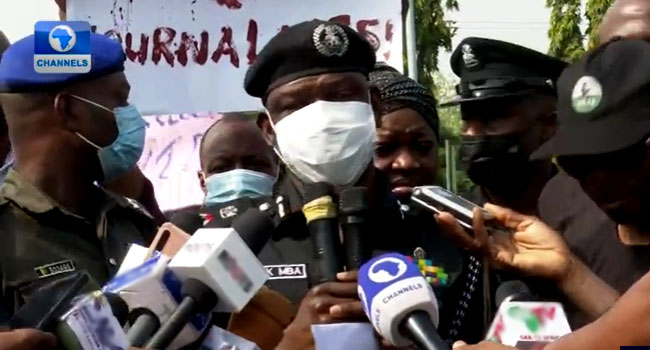 The Police have revealed the progress made in their investigation into the disappearance of Tordue Salem, a journalist with Vanguard Newspapers.
The Force Public Relations Officer, Frank Mba who spoke on behalf of the Inspector General of Police (IGP), Mr Usman Alkali explained that they have traced the person Salem had contact with last and the last phone conversation before his disappearance.
Mba explained this on Monday when members of NUJ, FCT Council marched to force headquarters in Abuja to express displeasure with the silence of the police on the matter.
"As I speak to you, we have made significant process with the investigation. We were able to trace when he left the National Assembly. We were able to interact with a young lady who spent time with him that night.
"We have the recordings of the last call he made. Also, we were able to speak with six different persons he spoke to that night.
"There are a lot of efforts behind the scene taking place," he explained.
Mba said the police are very interested in the case and efforts are going on 'behind the scene.'
He added that the IGP has given a firm instruction that no human or material resource should be spared in the effort at locating and understanding the rationale behind Salem's disappearance.
While explaining why the police have kept quiet on their investigation, Mba said the silence was deliberate.
He added that he is glad "that the Chairman of NUJ, FCT Council, understood the significance of confidential briefing and because of that request, I would rather do more of confidential briefing.
"The Police intentionally kept quiet on this case. In investigations, it is called 'Tactical Silence.
"We deliberately kept quiet because when you are working on a sensitive case you want to get to a comfortable altitude before you begin to brief the public."
The chairman of the Abuja chapter of the NUJ, Emmanuel Ogbeche, while handing over a petition for onward delivery to the IGP, said the incident is of concern to journalists and urged the police to do everything possible to rescue Salem alive.