'Run For President', Protesters Storm Jonathan's Abuja Office
Protesters on Friday stormed the private office of former President Goodluck Jonathan in Abuja with a call to declare his interest to contest the presidential election next year.
This comes about 10 months before the general elections are to be conducted by the Independent National Electoral Commission (INEC).
INEC said the presidential election would take place on February 25, 2023, in line with the provisions of the Electoral Act.
The protesters comprising men, women, and youths believe the former President is the man for the job and want him to join the race to succeed President Muhammadu Buhari when he completes his second term in office in May 2020.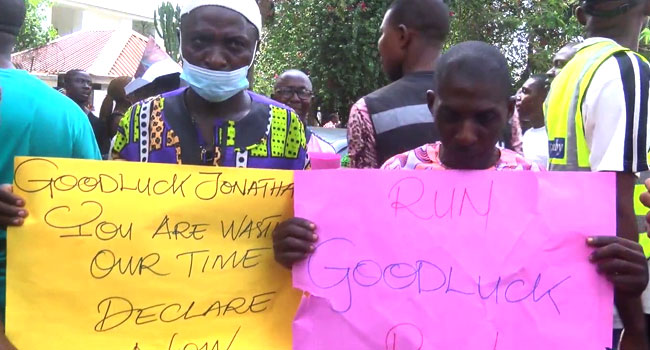 READ ALSO: Police Declare 12 Wanted Over Killings In Isu-Aniocha, Anambra
Armed with placards and leaflets with various inscriptions such as "We need you to restore Nigeria" and "GoodLuck Jonathan, you must run," they said the former President has the template to restore Nigeria's pride of place and give its citizens a sense of belonging.
The group lamented that the people were deceived by those who promised to secure the nation, improve its economy, and fight corruption, among others in 2015.
They, however, sought forgiveness from Jonathan whose administration they said was better compared with what the country presently has.
Former President Jonathan, in his response, was reported to have affirmed that he has yet to declare his interest to join the race.
He was said to have informed the protesters that the process to declare for the 2023 presidency was ongoing and promised to carry them along.
The solidarity march by the protesters comes a day after another group – The Nigerian Young Professionals in Diaspora (NYPD) threatened to sue the former President.
They vowed to take the action should Jonathan fail to join the presidential race at the end of the one-week ultimatum issued to him.