Residents of Ibadan, Oyo State have taken to the streets in protest against the hardship triggered by the naira notes swap and the hike in fuel price. 
The Central Bank of Nigeria (CBN) late last year introduced newly-designed N200, N500, and N1,000 notes and gave a January 31st deadline to phase out the old notes. The deadline was later extended by ten days following the outcry that greeted the policy.
Despite the extension, the new notes are scarce and Nigerians are finding it difficult to get the old ones.
Also, in several parts of the country, the pump price of fuel has increased with many people buying the product for as high as N500 per litre. Queues tailing back into major roads have also resurfaced in many places.
READ ALSO: Let New, And Old Notes To Circulate Together, APC Governors Beg Buhari
'People are Fed Up'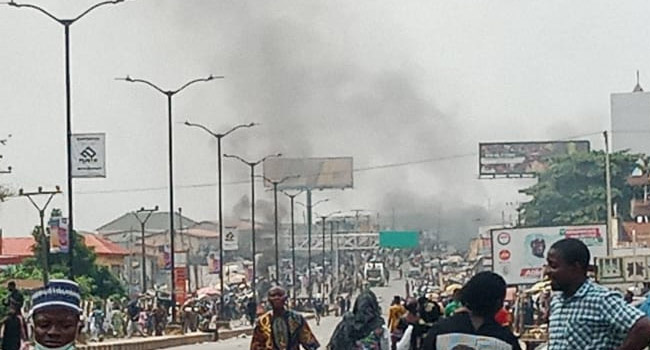 The situation forced some residents of the Oyo State capital to take to the streets, asking the authorities to urgently address the situation.
The roads leading to the Iwo area of Ibadan and other parts of the city were deserted as the protesters barricaded them. They were also burnfires on the road and reports suggest that a commercial bank was attacked in the process.
"People are fed up and need relief," one of the protesters, Tayo Adetunji, told Channels Television.
"The government in power should give us relief," he added.
He claimed that "the system is no more working in Nigeria. The money that we suffered for to collect it is now a problem".
The government, he pleaded, should allow Nigerians to continue the usage of the old notes to alleviate the plight of the people.
Another protester simply identified as Taofeek, accused the government of being insensitive to the plight of Nigerians, lamenting the hardships occasioned by the hike in fuel prices and the naira swap.