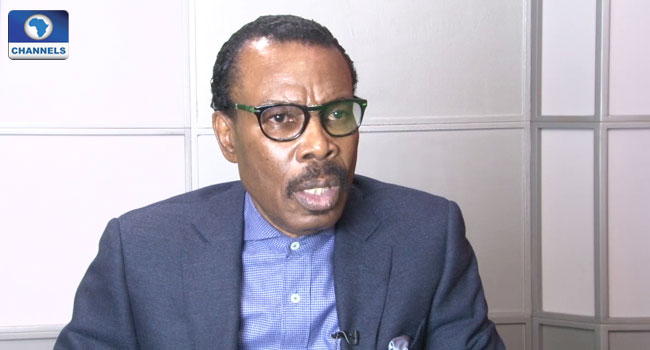 The Chief Executive Officer of Financial Derivatives Company, Bismarck Rewane, has blamed the immediate past and present administrations for the crisis in Nigeria's economy.
This comes amid a war of words between members of the both administrations over which managed the economy better.
Comments by former President Goodluck Jonathan at the Peoples Democratic Party's non-elective convention on Saturday had fuelled the war of words with his supporters and party rallying to his support, while the Presidency and members of the ruling All Progressives Congress have insisted the past administration drove the country into recession.
Rewane, who spoke via skype on Channels Television's Politics Today on Wednesday, explained that both administrations contributed to the country's economic woes.
For him, the discussion should not, however, be about trading blames but about fixing the economy.
According to him, the decline in economic growth started from the former administration but the present government was slow to save the country from the mess.
He said, "It's not a picture of you fail or you pass, the picture is the fact that the economy is on the mend after being deteriorated.
"Most of the deterioration actually happened, the slide started, well before the Buhari administration came in but they did not take steps fast enough to arrest the slide.
"The slide shouldn't have been as bad as it was but they've recovered it and now we are on the mend and I think things are much better than they were."
The economist accused the previous government of raiding the excess crude account and using it for "a subsidy scam" which he said almost crippled the economy.
That is, however, not enough reason for the Buhari administration not to act fast in saving the economy from its crisis.
"What happened in 2013 was that that excess crude account was raided; it was raided and also used for consumption; it was used for consumption and also used for a subsidy scam which almost brought the country to its knees," Rewane said.
"But that is not the reason why the economy should continue deteriorating and why it should be allowed to drop to this point before the recovery."
The Financial Derivatives Company boss added that the Jonathan administration was not disciplined in managing the economy while the Buhari administration was not focused on the recovery process.
"So there are blames on both sides; one, for the incompetence and lack of discipline of the previous administration and two, for the procrastination and lack of focus of this team.
"Now, what has happened is that this team has recovered and you can see the recovery but the recovery is going to be slow, painful and difficult," he said.