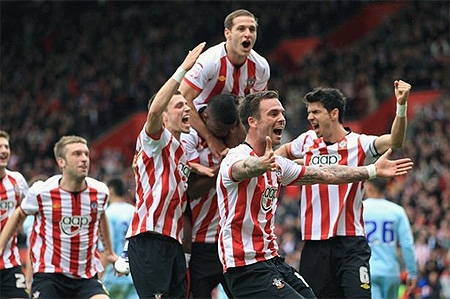 Southampton returned back into the Barclays Premier League after missing out of the top-level football action for seven years now as they made a majestic entry with 4-0 drilling of Coventry who are relegation bound.
Billy Sharp opened the path to the sweet victory as he gave Southampton the first goal and it was followed by Jose Fonte's goal with the first half ending 2-0, an opener for the second half came from the boots of Jos Hooiveld, as if not enough to carry the day for Southampton Adam Lallana scored the sealer for the Southampton as the crowd went mad for their hopes were not dashed.
In a game that was well-dominated by Southampton from the blow of the whistle also denying the guest a shot at goal, Southampton had all the chances to score more the goals garner in the game but the likes of Rickie Lambert and Guly Do Prado both wasted golden opportunities in front of goal which will right now matter for manager, staffs and other players for they have sailed to a more desired league with the goals scored.
Coventry enjoyed the first two sights of goal early on but Carl Baker volleyed his effort over the crossbar when well placed inside the area and Kelvin Davis in the Southampton goal got down well to deny Gary McSheffrey.
It is hoped that Southampton will be able to stand up to hold their position this time in the Barclay's Premier League.