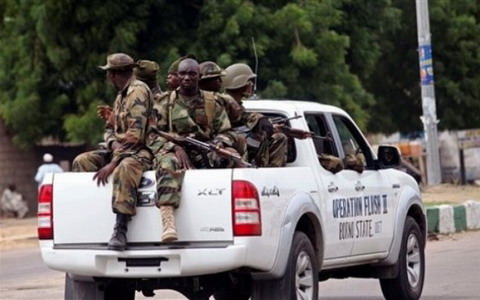 Seven persons have been confirmed dead in a renewed clash between the Military Task Force the JTF and the dreaded Islamic fundamentalists the Boko Haram in Gashua, the Bade Local Government Area of Yobe state North-East.
Gashua is 187 kilometers north of Damaturu the state capital.
A statement issued by the military spokesperson in the state, Lieutenant Eli Lazarus, said two police personnel and five members of the insurgents lost their lives during the crossfire that lasted throughout the night.
The statement says the gunmen attacked the JTF location, the Police Area Command and the Divisional Police Station all in Gashua Town but the attacks were repelled by the security forces.
Some of the insurgents according to the statement are believed to be within the town while others escaped in two vehicles with gunshot injuries.
The statement also adds that fleeing terrorists took away one Police Hilux vehicle fitted with siren at the top and one other vehicle as well as police uniforms and other items from the police station.
Items recovered from the hoodlums according to the statement include; one Toyota Corola Car, one Peugeot 406 Saloon car, one Isuzu Pick up Van, one AK47 rifle, and one Anti-Riot Gun.
Others include one locally made Pistol; one Rocket Propelled Grenade (RPG) Bomb, one Generating Set and large quantity of Ammunition.
JTF said it will continue to respond appropriately to such attacks and calls for the support of the law abiding citizens to remain calm as it is on top of the situation and solicit for their support
Witnesses told Channels Television that a cordon and search operation is currently going on in Gashua Town while a curfew has been imposed until 1PM today in an effort to track the hoodlums.