The Chairman of the Independent National Electoral Commission (INEC), Attahiru Jega on Monday said that the commission has investigated and prosecuted over 200 persons who allegedly breached the electoral laws.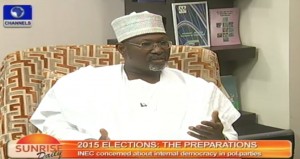 Mr Jega, who was a guest on Channels Television's breakfast programme, Sunrise Daily, accused Nigerian politicians of always seeking to 'jump the gun' during elections. He said INEC has done its best in checking this trend.
"I want to say categorically, we have done or best. We have prosecuted over 200 people successfully," he said.
He said some of the electoral offenders, including members of the National Youth Service Corp (NYSC) and INEC staff have been fined or jailed.
"Before our commission was inaugurated, there was no record of a single successful prosecution of electoral offences," Mr Jega said.
He said though the number represents a drop in the ocean, the commission had reasons to prosecute about one million people over multiple registrations.
"On registration alone, we do have evidence to prosecute close to a million people for clear cases of multiple registrations," he said.
He said the commission lacks the resources and personnel to prosecute all these offenders.
Mr Jega said INEC is currently working on how to relinquish the responsibility of prosecuting electoral offenders to another agency.
He said, "We are partnering with the NBA (Nigerian Bar Association), in fact, we have been discussing this partnership and now we are taking it a level higher and our hope is that before we commence the process of continuous voters' registration, which we hope will commence by the third quarters which is July – September God willing, we also want to make example of those who have done multiple registration.
"We will do it, but it is very challenging. The best thing is to have another agency that can actually handle prosecution of electoral offenders."
Logistic problems
Mr Jega said managing logistics during elections is a major problem that INEC have been contending with for a long time insisting that the commission has done its best to minimise this challenge.
He said, "I want to assure you that globally, there's no country where you can say it is 100 percent free of this challenge of late arrival of materials."
He said since he assumed office, the commission has been partnering with the security agencies to hasten the deployment of materials to areas with troubling terrain.
"Where it is necessary to move material by aircraft or helicopter, the navy helped us during the 2011 elections. Where it was to move it in the riverine areas the navy helped us and even provided security to minimise challenges arising from the activities of militants groups," the INEC boss said.
He said INEC devised a strategy of deploying materials to areas far from the city centre before deploying to closer areas but that this, as it happened in the recent Edo Council polls, has its own challenges.
He said the commission has reduced the incidences of late arrival of material to election venue by about 60 percent since 2011.
Staggered Elections
Mr Jega maintained that staggered elections are not the best for Nigeria, saying that the series of staggered elections in the country resulted from court judgments which affected tenures of some governors.
He said, "Certainly, some staggering helps the process. The kind of staggering we have now in terms of saying this kind of elections should take place now and then you sequence it; that kind of sequencing of major elections, I think has been helpful, it helps us to focus and it helps us to poll resources together and to deploy them appropriately.
He said, "But if you take staggering to a staggering extent, if I can put it that way, really it will also have its own challenges. It means for example if we have to every election state by state in all the 36 states and the FCT it will take us three years.
"If you are doing Presidential election for example, you have to do it nationally and in every place because the results have to be announced for a candidate to be returned."
Mr Jega said conducting staggered election has its limitation and insisted that what is important is for INEC to have the independence of deciding when to conduct a holistic or staggered election.
"If you legalise it by saying do elections state by state or do election region by region, you will create additional problems which are not presently anticipated," he said.
Electronic voting
The INEC chairman said the commission at the moment does not have any legal bottleneck and is not hindered from seeking innovative methods of conducting its operation even with the use of technology.
"The only clear categorical hindrance is in electronic voting. The law says categorically that electronic voting is prohibited and until that prohibition is lifted we even have challenges in terms of experimenting and piloting or getting some machines and beginning to see which are the best that can be used for electronic voting are," he said.
He said the commission had sent a recommendation to the National Assembly that as they review the 1999 constitution to "look at that provision and perhaps remove that prohibition. So that once it is removed we may not be able to do it in 2015 but we can begin to experiment and identify which models are suitable to Nigeria."
Permanent Voter Card
Mr Jega said before the 2015 general elections, INEC will distribute permanent voters' card to all registered voters in Nigeria.
The voter cards are to replace the temporary ones issued at the end of the voters' registration in 2011. The cards are valid for 10 years.
Last year, the Federal Government approved N2.6 billion for the printing of 40 million out of the 75 million permanent voter cards in the first phase of the project.
The government has approved additional N33.5 million for the project's second phase.
Mr Jega said "the permanent voter cards are chip-based carrying all our biometrics that was captured during the registration.
"We intend on election day to use a card reader to verify and to authenticate who is the true owner of that card. We believe that once we are able to do this successfully, then all these phenomenon of politicians purchasing voter cards and giving it to other people to come and vote with it on Election Day will be eliminated."
Relocating voters
The INEC chairman said all registered voters must vote at the point where they have registered.
Mr Jega disclosed this in response to a question tweeted-in by a lady who was watching the live programme on Channels Television from Abuja.
However, when a voter relocates, Mr Jega said "the electoral act clearly specifies what to do. You can change or transfer your registration status. All she needs to do in her case is to apply to the Resident Electoral Commissioner in the FCT giving all the necessary information why she has moved, what were the details of her previous registration, what was her polling unit and where is she now located.
"Once she does that application and it is verified, her details will be transferred to her new place and then we will issue her a permanent voter card in the new place."