Topless Activists Protest Against Putin Leading Up To EU-Russia Summit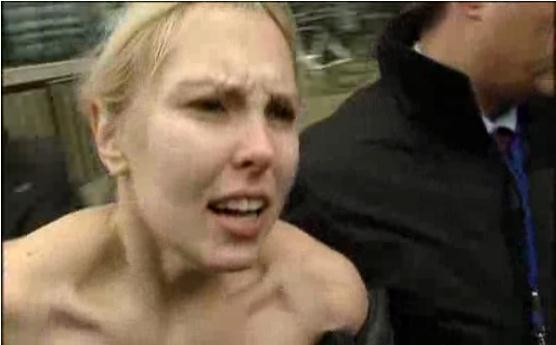 Two activists from Ukrainian topless feminist group, Femen arrived topless outside the European Council building on Tuesday (January 28), with the phrases "Good job Putin" and "Putin killer of democracy" written on their chests.
Protesting against Russian President, Vladimir Putin, hours before the EU-Russia summit begins later on Tuesday, the women chanted "Viva Putin, viva killer" and "Well done, dictator" as they walked about a block towards the commission building. They stood in front of the gates and continued chanting.
Activist, Yanna Zdanova said that they were protesting against Putin's role in the current crisis in Ukraine and demanded the EU to boycott him.
"Russia is actively engaged in adding pressure to Ukraine against the people on Maidan square, Russia is actively making propaganda against the demonstrators, it refers to the activists as radicals, what we want to say, Putin is now messing up Ukraine and the next one could be Europe, you have to be careful, you should boycott him because he is a dictator," she said.
When they climbed the gate, however, security apprehended them and held them as they continued to speak with reporters. After 15 minutes, police arrested both activists and put them in a police van.