N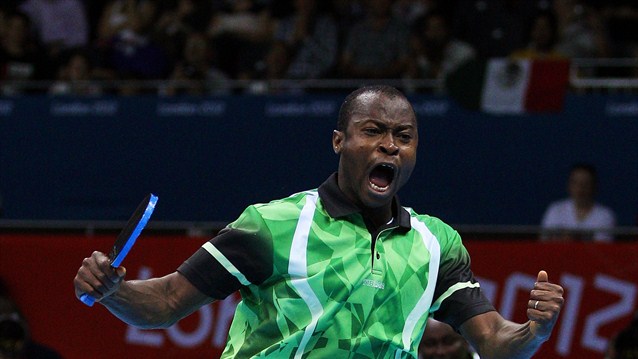 igerian players at the ongoing International Table Tennis Federation (ITTF) World Tour, tagged Kuwait Open started their campaigns on mixed fortunes.
Aruna Quadri recorded an emphatic 4-0 win over Egypt's Mohamed Elsobky, while Kazeem Makanjuola lost by the same score line to Frenchman Benjamin Brossier.
Quadri who played in Group Nine didn't find his rhythm at the beginning against the Southpaw Egyptian, but eventually won the first game at 13-11. The next three games went in his favour at 11-8, 11-8, 11-6 to record an impressive 4-0 win.
To decide the winner of the group, next opponent for the Nigerian is Russia's Alexey Liventsov, and if the Portugal-based player wins the match that will be played on Thursday, February 13, he will progress to the main draw.
On the other side, things did not go as planned for his compatriot, Makanjuola, who is making his debut in an ITTF World Tour losing 5-11, 9-11, 8-11, 5-11 to his French opponent. His last group match will be against Portugal's Joao Monteiro.
The winner of the 32 groups in the qualifiers will advance to the main draw to confront the top 32 seeded players. The players are looking to obtain World Tour Series Standings points to qualify for the $1m World Tour Grand Final to be held later in the year.
For Quadri, the victory against the Egyptian would surely motivate him against his next opponent.
"I did not play like I expected before the match. I won, but I was not on top of my game. The reason is just that it has been so long I took part in an international tournament. I was expecting a tougher challenge from the Egyptian but I was fortunate because he did not play well also," he said.
The Kuwait Open is a super series event on the ITTF World Tour, which is the top of the three tiers (super, major and challenge). Six gold medals will be at stake – men's singles, women's singles, men's doubles, women's doubles, men's U-21 singles and women's U-21 singles.
The Kuwait Open is the first Super Series event of 2014 and second World Tour event of the year after the Hungarian Open, which was a challenge series event.