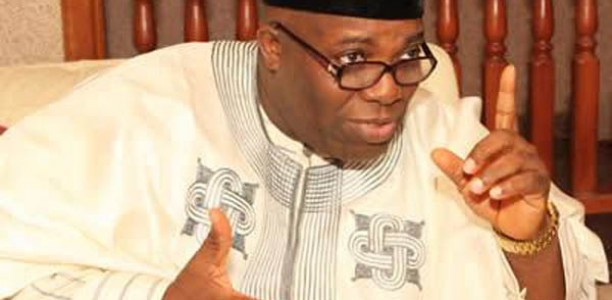 Special Adviser to the President on Public Affairs, Mr Doyin Okupe, today defended the nomination and sack of ministers by President Goodluck Jonathan.
Mr Okupe, speaking from Channels Television's Abuja studios, insisted that before the President makes his appointments, he certifies "that this person (nominee) is of a good quality, a good calibre and must possess a reasonable intellect, loyalty and patriotism to serve his country."
Okupe explained that in a parliamentary system of government, members of parliament are mandated to supervise different ministries "that has nothing to do with their profession." He added that "a man that is qualified, a graduate with good experience; that has distinguished himself in the society and has some sense of loyalty can run any ministry."
Mr Okupe also vehemently stated that "anybody running a ministry, is not running it by himself, he is running it for and on behalf of the President who has appointed him…he carries on the programme of Mr President." He emphasized that "each minister is a representative of the President in his ministry".
Meanwhile, a legal practitioner, Mr Tokunbo Odutola, speaking from the Lagos studios of the multiple-award winning television station, agreed with Mr Okupe on the selection process but was quick to add that the appointment process was "a three pronged process".
These processes according to Mr Odutola, are the taken from the "legal, political and moral" perspectives. He explained that the legal aspect, as enshrined in the constitution, is for the President to make sure he appoints ministers with each state represented amongst the nominees.
The political provision, he added, allows the President to assign whomever he so wishes to a ministry "because it is his team" and such "reflects on whom our President is". On the moral aspect, he said that this has to do with the person being nominated, who must be screened to ensure that he or she had not been involved in any criminal activity.
On the newly nominated ministers, he expressed the view that 2015 being just around the corner, "the President would not want to pick anybody who cannot make sure that, if he intends contesting in 2015, he can help him or his party."
Earlier in the week, one of the ministerial nominees, Mr. Oyewale Adesiyan, from Osun State, told the Senate that he had been wrongfully accused of having a hand in the murder of a former Attorney-General of the Federation and Minister of Justice, Chief Bola Ige, who was assassinated in his Bodija home, in Ibadan, Oyo State on December 23, 2001, a case for which he was in jail for three and half years.
Although, Adesiyan claimed that his implication in the death was a 'political blackmail' by enemies, Mr Odutola said that "morally, the candidate should be dropped".
Responding to questions from Channels Television viewers via Twitter on whether the President was making the decision to sack some ministers at the right time, Mr Okupe noted that this was "a preposterous question". He wondered why "Nigerians would vote for a man, if he does not have the capacity to decide what he wants to do, and when he wants to do it."
He further noted that "the President is the captain of the boat, he knows where he is leading the boat to, and he knows the kind of staff that he needs to assist him to get there." He insisted that those ministers who were dropped were still useful and they have done nothing wrong.