A young talented man doing amazing things with water colour paintings, before you set your eyes on this artist the work appears to be from someone far gone in years.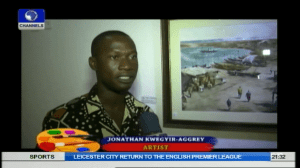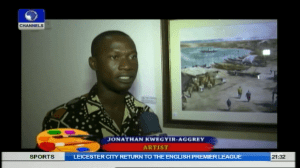 The reality is from Ghana, we see the beauty of water colour through the eyes of 30year old Jonathan Aggrey displayed at the Biodun Omolayo gallery in Lagos.
His painting skills leaves one amazed at how with the touch of water colour wonderful stories about a community can be told.
Jonathan has exhibited in several countries across the globe. The love affair between him and gallery owner Biodun Omolayo began online, with time he was confident that showing off his works in Nigeria was the way to.
This show is not only a celebration of a friendship but a new relationship across borders.
Using his talent as a voice and speaks about experiences that thrill the audience.
Creativity, talent and skill are gifts that can fit into anyone, proving that age is nothing but a number.