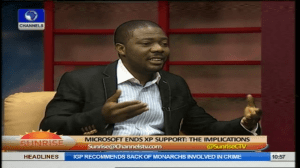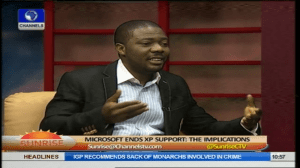 Licensed Penetration Tester, Peter Obadare, has said that the implication of the Withdrawal of Microsoft's support for Windows XP is an "End of Life".
He stated that 'end of life' simply means withdrawal of security patches where issues of security, availability of package and vulnerability arise.
Speaking on Channels Television Saturday breakfast programme, Sunrise, Mr. Obadare explained that Windows XP had been in existence for over 12 years and Microsoft, having the ownership of the Operating System is saying there would be an end to the contract.
He stated that all over the world, Microsoft Operating System is user friendly, which makes a lot of people run on Windows especially Windows XP. He admitted that if Microsoft stops their support for its users, there were chances that vulnerability would emerge, such as virus, because there is no update for it.
The CEO of Precise Financial Systems, Yele Okeremi, also on the programme, mentioned the importance of Windows XP and how dependent many people were on it. He noted that in 2001 when Windows XP was released, it came out as a big success and had over 800million users using it globally and XP remained unchallenged by Microsoft. Around 2006 an upgrade of XP was released which was Vista and a lot of people didn't migrate to that because it was not successful.
Windows 7 was later released which was supposedly a better version and about 300million people are using it because it is a straighter version, suitable for people – children, offices and business, but XP remained the most widely accepted Operating System.
He further added that the upgrade in the Operating System became highly important globally because of the release of new gadgets like tablets, smartphone, with new features like touchscreen amongst others.
On the fate of Nigerian banks who are known to operate mainly on the Windows XP Operating System, IT Consultant, Jude Ubah, also explained that they would be able to handle the situation, explaining that the new decision does not mean the system was being wiped out, it only meant users would no longer get support from Microsoft free of charge.
He revealed that up to 28% of the world's PC users use the Windows XP Operating System, with 49% of China's PC users running on XP. So "If Nigerian Government still runs on XP, we don't have to panic. Just go to them, talk to them, they'll support us."