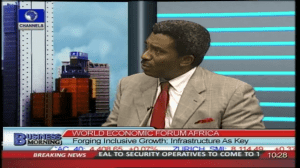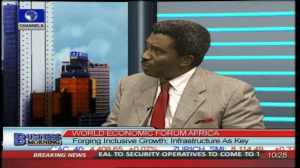 As Nigeria prepares to host the World Economic Forum On Africa, the Federal Government has been advised to look for investment that can be beneficial to all, particularly the small and medium enterprises.
This advice is coming from a Business Development Expert and President of the Nigeria-Britain Association, Mr. Tunde Arogomati, who was on Channels Television's Business Morning.
While speaking on the key issues and what kind of investments Nigeria should seek for from this forum to help develop its infrastructural base, Mr. Arogomati said there is need for Nigeria to use the forum as an opportunity to look at their peers in other African countries, "see what they are doing and imbibe those things", he noted.
According to him, there is need to have a definite focus, and separate politics from running the economy. For him, political parties should be run as a corporate organisation and not a self-centered thing.
He, however, believes that for Nigeria's infrastructural base to be developed, it has to be a joint effort by both the Government and private sector but adds that the onus lies on the private sector to drive it.
The World Economic Forum On Africa to be hosted by Nigeria brings together regional and global leaders to discuss innovative structural reforms and investments that can sustain the continent's growth, while creating jobs and prosperity for all its citizens.