Lawyer Tells NASS To Suspend Petroleum Minister's Probe
A legal practitioner, Mr Jiti Ogunye has urged the House of Representatives to put a hold on its probe on the Minister of Petroleum Resources, Diezani Allison-Madueke, who has been answering questions over the alleged expenses of ten million naira on private jets.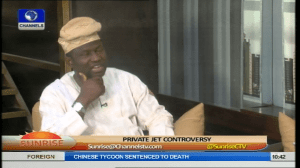 Mr Ogunye argued that "when you submit a matter to adjudication, the law says that you must allow the court to determine the matter first before you take any step" insisting that this is so because our democracy is guided by the principles of separation of powers.
He said in as much as "Judges cannot take over the functions of legislators, legislators cannot also take over the function of the judicial arm of government".
Also speaking during Sunrise, Mr Igho Akaeregha, agreed that the probe be halted by the House until it is decided by the court. He noted that "once a case is in court, it becomes compelling for all the parties to wait for the outcome of what the court will say" .
Mrs. Diezani Alison-Madueke, on Thursday, instituted a fresh legal action against the two chambers of the National Assembly, challenging their powers to probe allegations that she spent N10 billion on chartered private jets.
The Minister filed the suit on a day the House Committee on Public Accounts invited  her, the Group Managing Director of Nigeria National Petroleum Corporation (NNPC), Andrew Yakubu, and Federal Airports Authority (FAAN) to appear before it on June 15 to explain their roles in the alleged N10 billion jet scam.