Fayose Impeachment Allegation Is A Strategy To Divert Attention – Adedipe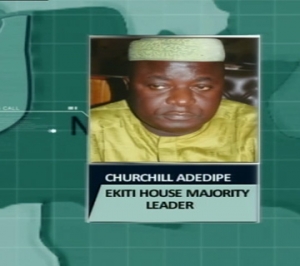 Ekiti State House of Assembly Majority Leader, Churchill Adedipe, has again denied allegations of bribery levelled against the All Progressives Congress lawmakers by the People's Democratic Party.
The APC lawmakers had been accused of making plans to impeach the newly sworn-in Ekiti State Governor, Ayo Fayose, having been purportedly paid huge sums of money by the APC leadership; a claim made by PDP lawmaker, Samuel Ajibola, during an interview with Channels Television.
Mr Adedipe, who spoke via the telephone on Politics Today on Channels Television, expressed disappointment in his colleague and PDP lawmaker, Samuel Ajibola, whom he said "lacked basic understanding" of how the impeachment process works, despite having been in the House of Assembly for about three years.
He said that although they (APC lawmakers) indeed visited Lagos for a meeting of their party, they did not collect any monies from the APC leadership and they never made plans of impeachment against Governor Fayose.
He noted that there was no law restricting them from holding meetings with their leaders, asking those who wished to know the goings on in the APC to join the party rather than peddle speculations against the APC lawmakers.
Adedipe said that the Fayose impeachment allegation was a ploy to divert attention from possible issues that might be more serious, asking the Ekiti people to look deeper into the camp of the people promoting the allegation, as the talk of impeachment just two weeks into Governor Fayose's inauguration was suspicious.
He asked the Governor to also "look inwardly into that particular camp because they may have a target. They may want to act out a script which may not be known to Ekiti people presently."
He further alleged that the PDP lawmakers making the allegations became suspicious because of a similar act of monies exchanging hands which led to the recent defection of some APC lawmakers in the state into the PDP.
He noted, however, that the lawmakers who left the APC would have no impact on their strength in the state as they still maintained their majority status in the House of Assembly.
He referred to their departure as "good riddance to bad rubbish."