Ir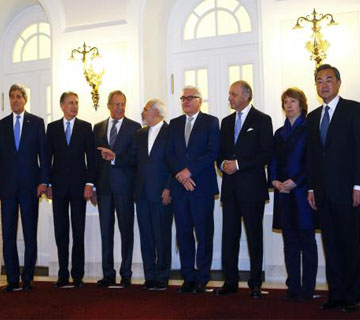 an and six world powers have given themselves seven more months to overcome the deadlock that prevented them from clinching an historic deal to resolve their 12-year dispute over Tehran's nuclear ambitions.

The Chinese representative involved in negotiations on Iran's nuclear program, Cheng Jingye, had been of the opinion that talks might need to be extended, as time was running out for a deal to be struck before Monday's deadline.
"There have been some new ideas and suggestions during the talks. The deadline of this round of negotiations is Monday. Considering that some issues are complex and important, I think more time may be needed," said Cheng.
"We have been working closely with other sides, such as the United States, Iran and Russia in the past few days. We've had many discussions within our framework, and China has been playing a constructive role in moving the nuclear talks forward."
An analyst at the Arms Control Association, Kelsey Davenport, ahead of the extension, had also expressed confidence a deal would be reached, although not necessarily before the deadline expires.
"We can be optimistic about reaching an agreement. It may not happen by November 24, but I think it shows that there is significant political will and commitment to getting a deal, even though we may need a short extension in order to get there," he said
Britain's Foreign Secretary, Philip Hammond, had, however, warned ahead of the extension that although getting a deal seemed to be the major force, false hopes should not be raised.
"We're all focussed on trying to get to a deal but I wouldn't want to give any false hopes here. We're still quite a long way apart and there are some very tough and complex issues to deal with but we're all focussed on trying to get that deal done," Hammond said.
A U.S. official revealed that U.S. Secretary of State, John Kerry and Iranian Foreign Minister, Mohammad Javad Zarif, discussed the extension.
Speaking to reporters after the extension had been made known, U.S. Secretary of State, John Kerry, gave a sombre assessment, saying "real and substantial progress had been made" but added that "some significant points of disagreement" remained.
"These talks are not going to get easier just because we extend them. They're tough. They've been tough. And they're going to stay tough," he said.
The cost of failure to reach a deal could be high. Iran's regional foes Israel and Saudi Arabia are watching the Vienna talks nervously.
Both fear a weak deal that fails to curtail Iran's nuclear ambitions, while a collapse of the negotiations would encourage Iran to become a threshold nuclear weapon state, something Israel says it would